Watchdog report slams financial firms on privacy
A privacy watchdog group released a report criticising the privacy practices operated by financial institutions in the US.

Download this free guide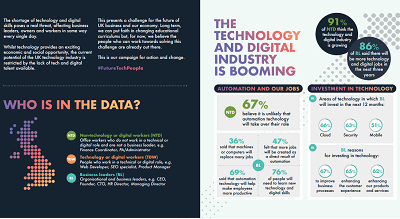 Infographic: How to future-proof UK technology
There is no doubt that the technology industry is booming right now, bringing with it exciting social and economic opportunities. However, there is a real fear that the UK industry may be stunted due to the lack of talent available. This e-guide helps to break down the future fears and expectations of dozens of business leaders and tech workers.

A privacy watchdog group released a report criticising the privacy practices operated by financial institutions in the US.



Among the best practices cited in the study by the US-based Centre for Democracy and Technology (CDT) in Washington are those used by First Union. The company offers its Internet customers an online form for opting out of marketing deals and for limiting the sharing of personal data.

Drawing criticism in the report was Community First Bankshares, which requires online banking customers who want get off of its marketing lists to telephone to receive a form that has to be returned by regular mail.

Privacy advocates said the latter practice would be likely to frustrate consumers. But Community First is hardly alone: only 22% of the 100 companies surveyed offer consumers a "convenient online means" of preventing data-sharing, the report said.

"We have systems that are robust and strong enough to do important things like move money, but not apparently robust enough to allow privacy choice," said Peter Swire, former chief privacy counsellor for the Clinton administration.

But Pat Staples, senior vice president of market development at Community First, defended the call-in policy and said that asking customers to speak with a customer service representative helps the bank understand a customer's particular privacy concerns.

Community First at least offers its customers a chance to opt out of data sharing with marketing partners and affiliates. Under US legislation passed in 1999, a bank can share information with affiliates and marketing partners without a customer's permission. Many of the companies in the survey didn't offer consumers a choice on data sharing unless they had to under the law. The act only requires bank to offer an opt-out option for data sharing with unaffiliated third parties.

Senator Paul Sarbanes, who heads the Senate Banking Committee, has been a leading critic of the legislation and has introduced a bill which would toughen the privacy rules.

The report's authors hope that the study leads to better practices among online bankers. "There are best practices out there," said Ari Schwartz, associate director at the CDT. "There is an industry standard that the rest of the financial community could live up to."
Read more on IT legislation and regulation