Cloud services' top driver in India to be agility than cost: Forrester
The number one reason for cloud services adoption in India is cost reduction. With significant growth in expectations, that may change, says Forrester.
The main drivers for cloud services adoption in Asia — especially in India — are set to witness a major change, according to IT analyst firm Forrester Research. Since Indian CIOs experience very real 'competition' for service delivery to the business users, cost reduction cannot remain as the primary driver for use of cloud services. Business flexibility has to take over as the prime deciding factor for the overall organizational benefits that cloud services can deliver, revealed Michael Barnes, Vice President and Principal Analyst at Forrester at the Asian Cloud Frontiers 2011 held this week in Mumbai. Barnes based this trend on a recent Springboard Research report, which involved responses of 883 respondents across Asia Pacific. The report deals with cloud computing trends in Asia Pacific, with a focus on the evolution of IT being driven not by technology, but by economics.
The Springboard report reveals that over the last 12 months, the primary driver for cloud services adoption in Asia is the need to support unpredictable workloads. Hardware infrastructure cost placed second as a critical driver. Reducing IT and administration costs, followed by the need to increase business and IT flexibility, were identified as the other top drivers for cloud adoption.
Barnes highlighted the shift from low hardware costs to supporting unpredictable workloads as the primary driver for adoption of cloud services. "There is clear proof that adoption of cloud services is being increasingly driven by a need to better serve the business. Justifying projects and securing funding is far more likely, if the goal is improved service delivery or flexibility, versus just cost savings," says Barnes.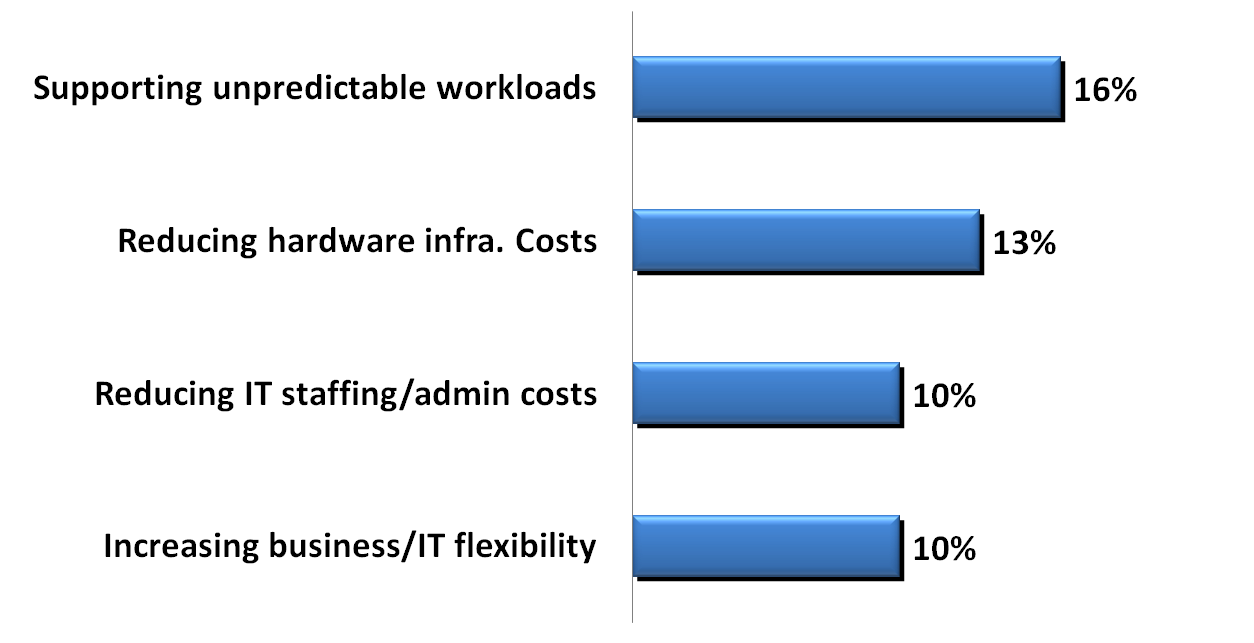 Courtesy: Springboard Research
The Springboard report shows that changes in user expectations have led to a shift in the needs and wants of users when it comes to implementation of cloud services. Organizations are now leveraging the lessons learned from early adopters, and there is a possible shift in the primary drivers for cloud services. "2009 was about the 'What' – what is cloud? What are the basic attributes? What solutions are available? 2010 focused on the 'Where' – where is cloud being deployed? About validation of cloud services being real and that adoption is happening. This year it's all about the 'How' – how should cloud be leveraged? What are the best practices?" says Barnes.