VMware launches GO service aimed at SMEs: News Roundup
HP and Microsoft join forces on cloud computing; IBM swoops in for Panasonic cloud collaboration; and other news of the week.
VMware launches GO service aimed at SMEs
VMware has launched a new service designed to simplify virtualising severs for SMEs. The free of charge, GO web-based service will allow SMEs to install and configure VMware's ESXi hypervisor tool. It is aimed at consolidating the process of installing and implementing the ESXi platform in to three simple steps; installing the hypervisor, setting up and configuring virtual machines, and managing various systems once the platform is ready for use. The vendor said it is hoping the tool will increase the adoption of virtual setups, by eliminating the need to undergo time consuming on-site installations and configurations of hypervisors.

HP and Microsoft join forces on cloud computing
HP and Microsoft have announced that the two companies will invest $250 million over the next three years in a bid to link Microsoft software with HP technology, to sell as one cloud package. The vendors are calling the alliance the 'infrastructure to application model' which is intended to position both companies as prominent cloud players in the market. The partnership is a hit back at Cisco's servers and its recent alliance with VMware.

Download this free guide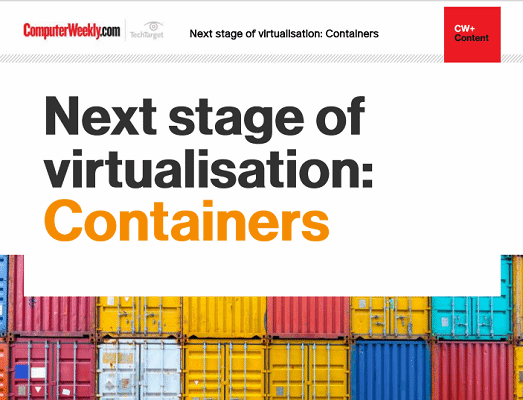 Next stage of virtualisation: Containers
Who doesn't love building blocks? Following the burst of cloud computing, containers are becoming a necessity for all organisational transformation and development. Follow us as we go through the technologies that complement and enhance their use, and outline a first-hand insight into the impact.
IBM swoops in for Panasonic cloud collaboration
IBM has announced that it will be moving Panasonic's workforce to LotusLive hosted email and collaboration software, in a bid to take a stab at the cloud enterprise arena. Panasonic is set to ditch Microsoft Exchange and other on-premise technology for IBM's cloud based LotusLive email and collaboration systems. Intended for Panasonic's global operations, 100,000 employees will be included in the migration, which will eventually expand to 300,000 workers, partners and suppliers. Financial details of the alliance were not disclosed.
Can Microsoft win the virtualisation war against VMware?
Can VMware outrun competition from Microsoft's Hyper-V virtualisation? While Hyper-V has changed virtualisation pricing, VMware's superior performance is still the brass ring.
VMware continues to shuffle workforce with Senior Director's departure
VMware has waved goodbye to its second senior management member, this year, Joanne Syben. Syben, previously Senior Director of R&D, in charge of ESX R&D, at VMware follows in the footsteps of Chris Hammans, VMware Regional Director for UK and Ireland, who announced his exit last week. Syben led the Core Storage team for ESX Server, which includes VMKernel components, FC and iSCSI.
Zimbra to bolster VMware vCloud efforts, say executives
The VMware acquisition of Zimbra, an email company, is designed to bolster the virtualisation provider's cloud computing stack, according to VMware and Zimbra executives.
Data centre flywheel gets thumbs-up from colo provider
To save data center space, Terremark Worldwide, a large data center hoster, uses flywheel- rather than battery-based uninterruptible power supply for a new facility's backup power.
Users await AMD's 12-core processor and more competition with Intel Data centre pros hope AMD's upcoming 12-core chip will re-ignite the x86 server race with Intel.
Green Touch group to cut IT energy
Green Touch, a new consortium of telecoms firms, is researching ways to reduce the power usage of networks. The group aims to reduce 10,000 times the current levels of power usage in IT networks.
OSU's Open Source Lab offers students systems management experience
A lab architect discusses the rewards and challenges of employing inexperienced systems administrators at a data centre that hosts major open source projects.
Kayleigh Bateman is the Site Editor for SearchVirtualDataCentre.co.uk
Read more on Server virtualisation platforms and management