HP gears up to convince CIOs to buy its products
Hewlett-Packard is gearing up for a major campaign to convince chief information officers with the biggest budgets to buy its hardware, software and services,...
Hewlett-Packard is gearing up for a major campaign to convince chief information officers with the biggest budgets to buy its hardware, software and services, instead of IBM's.

Download this free guide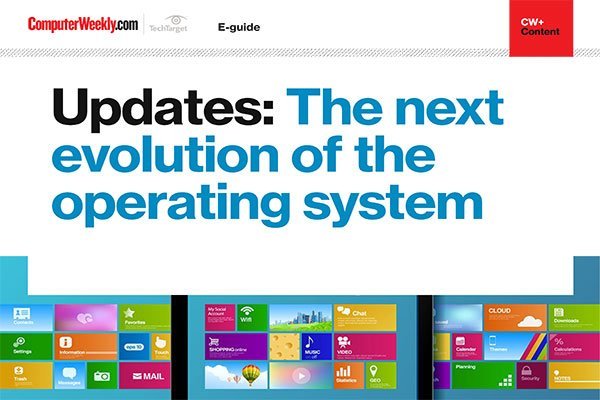 Software Updates: Our latest e-guide is available for your device. Download now?
See how operating systems are evolving with the help of continuous updates and learn about how the Spectre and Meltdown microprocessor flaws have led to improved, more secure processors being released and how Microsoft is evolving its Windows desktop operating system.
By submitting your personal information, you agree that TechTarget and its partners may contact you regarding relevant content, products and special offers.
You also agree that your personal information may be transferred and processed in the United States, and that you have read and agree to the Terms of Use and the Privacy Policy.
With completion of the $13.9bn EDS acquisition this month, HP believes it has the breadth of products and services to cater for the most demanding user requirements.
While its Personal Systems Group (PSG) revenue grew 15% year over year to $10.3bn, HP is targeting the high-end enterprise, where it claims it can offer businesses bigger bottom-line savings, compared with IBM.
Stephen Gill, UK managing director of HP, says, "We have invested in our sales organisation, and will be targeting the top 5,000 companies that spend the most on IT. HP UK will be looking at the top 50 businesses."
It is a strategy that can only work once EDS is integrated into HP. In theory, the combined company will be able to offer CIOs products and services to transform IT by making it more efficient. CIOs will have the choice of either buying HP's business technology optimisation tools it acquired with Mercury in 2006, or outsourcing IT functions, which HP claims it can optimise using these same tools.
HP wants businesses to consider its high-end servers for running traditional mainframe applications. In fact, its Madrid e-business centre is focused on migrating mainframe Cobol applications to Java, running on HP servers, says Martin Hess, vice-president for sales at HP. Hess claims that users can make large savings by offloading some of the mainframe work.
However, Gartner vice-president Rakesh Kumar is not convinced. "We are actually seeing more application [workloads] being put on the mainframe, not less. IBM's zIIP and zAAP processors are licensed at up to a quarter of the price of traditional mainframe processors, so the potential savings of moving to PC servers like those from HP, are less compelling," he says.
One thing is clear: HP is becoming a major software supplier, and is the fifth largest software company in the world, ahead of Symantec in terms of revenue, according to the SoftwareTop100 list.
Roy Illsey, senior research analyst at Butler group, says there is plenty happening behind the scenes, in places such as HP's Bristol research labs. "HP is working on cell software, which enables an IT department to manage virtualised servers more easily. I believe, when it ships, this technology will represent a turning point in virtualisation," he says.
Customers and non-customers of HP may soon be getting a call from the IT supplier. Some experts believe HP does indeed have compelling software and services products. Certainly, its R&D is rich in innovative technologies. IT directors need to assess HP, not just as a supplier of commodity PCs and servers, but as one of the world's largest software and services companies.