Telefonica picks Teradata to optimise broadband pricing
Spanish telecommunications company Telefonica is using a Teradata-powered "brute force" system to optimise revenue from its global broadband offerings.
Telefonica...
Spanish telecommunications company Telefonica is using a Teradata-powered "brute force" system to optimise revenue from its global broadband offerings.

Download this free guide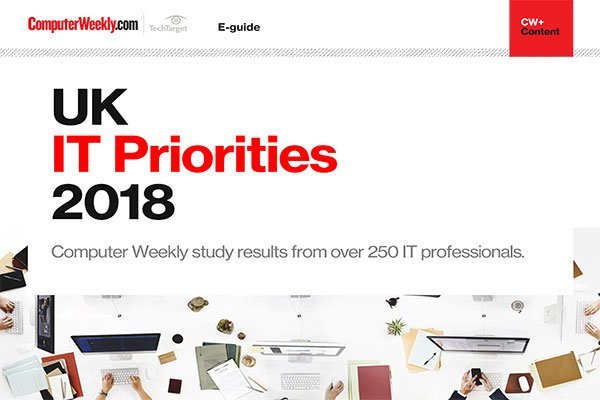 UK IT Priorities 2018 survey results
Download this e-guide to discover the results of our 2018 UK IT Priorities survey, where IT leaders shared with us what they are going to be investing in over the coming 12 months.
By submitting your personal information, you agree that TechTarget and its partners may contact you regarding relevant content, products and special offers.
You also agree that your personal information may be transferred and processed in the United States, and that you have read and agree to the Terms of Use and the Privacy Policy.
Telefonica business intelligence consultants Antonio Sanchez Chinchôn and Maria Garcia Gutierrez told an audience at the Teradata Partners conference in San Diego recently that the combination of products, prices and channels can quickly make for complex analysis in optimising revenue.
"Five products each with a single price gives you 31 options," said Chinchôn. "If you then add 10 price options you get 161,000 options."
Telefonica decided that the only way to tackle the problem was to firstly provide the "mathematical truth" by providing a matrix of all possible combinations, and then to let the business managers sort through them to find the optimal revenue from a business perspective.
"This may theoretically leave money on the table, but it may be cheaper in the long run for other reasons," said Chinchôn.
A detailed pilot study showed that Telefonica could have made an average of €63.70 from a market with three price points. It chose to go with just two, even though the average revenue per user (ARPU) fell to €62.50. This was because it was cheaper to manage two price levels than three, he said.
As it turned out in practice, Telefonica enjoyed a slightly higher than anticipated ARPU than predicted.
The Teradata market modelling system is now the basis on which Telefonica makes its decisions about what products and prices to offer the fast-growing Spanish broadband market.
Gutierrez said the fixed-line market was growing at a steady 10% a year, but the mobile broadband growth rate was 80% a year. "The question was how to accelerate growth in both fixed and mobile markets," she said. "It couldn't be by offering a replacement product, because that would imply lower prices, so we looked for the best price."
Telefonica loaded all it knew about customer preferences, prices and products, ending up with more than 250,000 combinations. Running the simulation showed that the optimal price for maximising revenue from the Spanish mobile broadband market was a combination of a €9 daily rate and a €20 monthly price.
Telefonica then tested the combination in a 15,000 customer trial. Based on the results, which exceeded expectations, it launched the deal nationally in April 2010. So far, the results remain slightly ahead of expectation, said Gutierrez.
Telefonica is now ensuring that all new product and pricing decisions run through the simulator before final decisions are taken.
Gutierrez said that the simulator could be applied in any market, provided the local managers could identify and isolate the required information.
Read more on Networking hardware