IDC finds business propelling demand for virtualisation
Businesses are buying more virtualised servers, according to the latest server shipments data from analyst IDC. IDC's EMEA Quarterly Server Virtualization...
Businesses are buying more virtualised servers, according to the latest server shipments data from analyst IDC.
IDC's EMEA Quarterly Server Virtualization Tracker showed that 17.7% of all new servers shipped in EMEA in the fourth quarter of 2009 (4Q09) were virtualised, an increase from 16.3% in 4Q08.

Download this free guide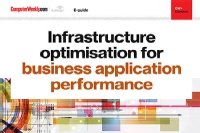 Server hardware specs and design: The latest trends
Join us as we take a look at some of the latest trends in server hardware design and specifications to help IT buyers make an informed choice about the best infrastructure to run their portfolios of business applications on.
Actual shipments increased year on year for the first time since 4Q08, rising 2.8% to 110,000 physical servers. Virtualisation software revenue for the EMEA region also increased for the first time, recording a 3.9% growth year on year in 4Q09 to $158m. Virtualisation licences distributed grew year on year by 8.54% to 158,000.
IDC has noticed a shift among users to buy paid hypervisor software, with paid virtualisation software now running on 71.7% of all new server hardware shipments virtualised in 4Q09 compared with the 60.7% recorded in 4Q08.
Nathaniel Martinez, programme director, IDC EMEA Systems and Infrastructure Solutions, said, "IDC believes that server virtualisation will play a pivotal role in transforming large and medium organisations' hardware infrastructure so that it operates at a level of efficiency that is more in line with the demands of current economic environments in EMEA."
Martinez said Western Europe was leading the way in terms of mainstream adoption of server virtualisation technology, with 20.2% of new servers shipped in 4Q09 virtualised compared to 19.3% a year ago.
He said, "Server virtualisation has become the default build for new application deployments and server refreshes among many European organisations and this is having a profound impact on IT infrastructure directions.
"The next step in virtualisation adoption will require a reinvention of IT policies and procedures, and continued deployments of automation tools will be key as virtual machine densities rise and customers find themselves facing virtual server sprawl issues," said Martinez.
Companies like British Gas are looking at virtualisation as a way to reduce IT costs.
Read more on Server hardware