Staff get stress support after SAP go-live
Somerset County Council is offering support sessions to help staff cope with the effects of a troubled SAP implementation.
An e-mail...
Somerset County Council is offering support sessions to help staff cope with the effects of a troubled SAP implementation.
An e-mail from the council dated 8 June 2009 offers support to "staff who have been adversely affected by the SAP implementation". Workshops in the coming weeks will include:

Download this free guide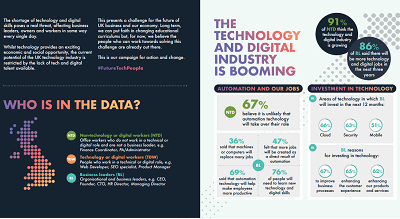 Infographic: How to future-proof UK technology
There is no doubt that the technology industry is booming right now, bringing with it exciting social and economic opportunities. However, there is a real fear that the UK industry may be stunted due to the lack of talent available. This e-guide helps to break down the future fears and expectations of dozens of business leaders and tech workers.
1. Managing excessive pressure within your team
2. Coping strategies for abnormally high workloads
3. Dealing with difficult situations/conversations
Somerset County Council went live with the delayed first stage of a SAP implementation on 1 April 2009. Staff have struggled to pay invoices on time. It is further claimed that some bills have been paid to the wrong suppliers and that some companies have been paid twice for the same service. The council says the difficulties are teething problems.
The council accepts that a higher-than-usual number of emergency payments to the authority's suppliers are being made through the same-day bank-to-bank Chaps network. The extra costs of the payments through Chaps are expected to be met by IBM.
The SAP implementation is part of a transformation programme being run by SouthWest One, a joint venture company which comprises IBM as the majority shareholder, Somerset County Council, Taunton Deane Borough Council and Avon and Somerset Police.
Now that the Conservatives have won control of the county council from the Liberal Democrats, they are reviewing SouthWest One. Troubles with the SAP system, and the political controversy over the setting up of SouthWest One, might have contributed to the loss of 16 years of control of the county council by the Liberal Democrats.
Anwen Robinson, director of ERP provider Agresso, who has been following events at SouthWest One, said, "Shared services demand a flexibility in the software which underpins everything. If you don't have that flexibility you will end up with a system that is slow to adapt to the needs of the organisation. This in turn means downtime, delays and spiralling support costs."
A spokesman for Somerset County Council said, "As many large corporations and central government departments have found, the bedding in of new and substantial IT systems takes time but we are confident that the ultimate benefits and savings that SAP and our relationship with SouthWest One bring will more than compensate for the teething problems in the early stages.
"The new political administration of Somerset County Council is due to take over the council at the end of the month and staff and politicians are working closely together to make the transition as smooth as possible.'
Council chief's apology after SAP go-live >>
SAP's troubled system at Somerset County Council becomes a political football >>
Read more on IT project management