Using robot wars to teach robotics
How do you get girls fired up about a subject that they consider masculine and geeky? Get them competing in a 'Robot Wars' style battle, explains Ian Jenkins, head of design & technology (D&T) at East Barnet School.
"I used to want to be a dancer, now I want to be an engineer," professed one teenage girl, fresh from taking part in a national robotics competition.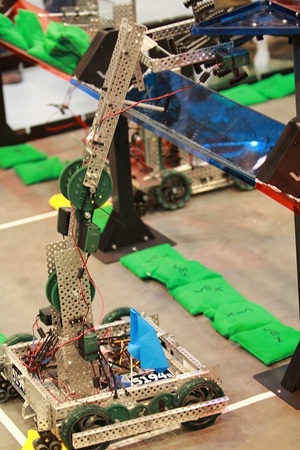 Anyone working in technology and engineering will understand the true value of this statement. In spite of high demand for fresh young talent, there is a lack of young people leaving school and entering into STEAM (Science, Technology, Engineering, Arts and Mathematics) related careers.
A recent survey found that 59 per cent of business leaders believe there are not enough suitable candidates leaving education to meet industry's employment requirements. It is clear then that improving the way these subjects are taught and getting pupils engaged in this sector is what's needed to help bridge this skills gap.
How we made STEM exciting
At East Barnet School, one way in which we've been getting our pupils actively involved in technology is through the design and building of robots. When we first introduced it into the curriculum, it was a real uphill struggle getting our female students on board with the lessons. They considered it a geeky activity and one better suited to boys so the first challenge was to change their perception of the subject. We also found that the initial phase of lessons revolved around the students assembling robotics kits which only appealed to a few limited skill sets and didn't help in encouraging the students to warm to the subject.
The bottom line was that we needed to try something different. In the end, we decided to set up a 'knockout challenge', inspired by the TV programme Robot Wars to get our students working together as a team and show them how fun robotics can be.
During EEE lessons (time set aside for Enhancement, Enrichment and Engagement activities)we started with simple kits called Jitter Bugs and the students had fantastic fun building and decorating them; trying to out-do one another.
Once we had the basics down, we then progressed onto E-bots with the help of two of our former students, who both excelled in robotics. They helped us plan a scheme of six lessons for our students around a self-build kit, which included programming and physically building the robots. Using Flowino, a flow chart based programming system they demonstrated how to do this using the materials provided and with help from 3D design software. They were careful to point out that robots don't have to walk on two legs as they usually do in films and that the students could be as creative as they wanted in their designs. Once we set them the challenge of getting their robot up and running before the other teams, this really kick-started their creativity.
This was a real learning curve for me. Our former students had a better grasp of the robot design and programming process than us teachers, but the students really enjoyed explaining to us how their robots worked, adding to our knowledge base all the time. They used Computer Aided Design (CAD) to help the students engineer and develop a whole robot in virtual reality and test it, then went on to make it in the workshop and programme it in ICT.
Robotics was becoming popular and we decided to enter for the VEX UK Robotics Championships. We gave an assembly on what skills and characteristics were needed in a team then the students split themselves into four teams. One team of girls who had initially been very reluctant to engage in robotics tasks really got on board when they all realised their individual roles within the team. One focused on building, one on CAD, one on programming and one worked on a brand identity for their team. Once each team member had established a role that played to their strengths, they really got fired up about the task. It was also great to see how they worked together as a team to get the job done and to beat their competitors.
We found that this element of competition was key in exciting and engaging the students, especially the girls. They all learned a huge amount through trial and error and made excellent progress when they realised where tasks had gone wrong, and worked out how to correct their mistakes.
The crowning glory of our robotics lessons
A few months after this programme, a team from East Barnet School went on to win the VEX National Robotics Championship, a feat repeated this year by VEX Impact, a team of Year 9 girls. Both teams went on to represent the UK in the World Championships, competing in California with teams from around the world. We won the UK robotics championship for the third year in succession in March. Some of the girls used to want to be dancers; now they want to be engineers. The feedback from the students has been brilliant and they all really look forward to putting their hard work to the test in these competitions.
We are all thrilled with these results and how much robotics lessons have taken off at East Barnet – particularly with how many of our female students have found a passion for the subject. Now we know that competition is key to engaging the students, we make sure that they are working towards an end goal that will allow them to compete against their contemporaries. It gives them something to focus on and allows them to enjoy the fruits of their hand work at the end of the process. Our students have come away with a huge range of new skills in IT, programming and engineering as well as project management and team work. Our Year 7 classes are really taking to robotics and are able to build and design using the right IT tools and materials.
Not a lot of teachers know that free design software is available to all schools from 3D design software manufacturers like Autodesk, for example. It's really worthwhile to take advantage of it though, as it has been a massive help to us. We installed the software for free and all students were also able to download it onto their machines at home and access tutorials, which meant we could teach ourselves how to use it in a matter of days. The software has a direct link to VEX robotics and includes a parts library and simulations. Being able to design the robots in 3D before starting to build them was great as it meant we knew exactly which hardware to invest in. This has really benefitted the school budget as well as the students!
There is a strong network of support for robotics from VEX, LEGO and Mindsets as well as from schools and students already involved in the teaching of robotics. It can be delivered at low cost, for example our Ebot costs £50 – £60 and includes programming software, and robots can be easily disassembled and used again. If you are considering competitive robotics, I would recommend seeking sponsorship and support as early as possible.
Teachers reading this may shy away from the idea of introducing robotics into the classroom because it's beyond their experience. I must admit I found some of the technical aspects challenging but through perseverance and continuous evaluation and development of our classes, we've gone from introducing internal competitions to winning world championships. Our school is now is encouraging other local schools into robotics and hoping to spread the word further. My advice: Keep at it and take advantage of the free resources available!