Townley Grammar's California girls: Trip to Silicon Valley Day 2
This is a guest blog from Desmond Deehan, head teacher at Townley Grammar School for girls in Kent. Each year the school takes its GCSE and A Level computer science students to Silicon Valley to visit San Francisco, LA, the Computer History Museum and Stanford University and businesses such as Microsoft, Google, Facebook, Intel and NetApp to name a few.
Deehan and his students will be blogging about their visit which is taking place this week.

Day 2
On Sunday we had an informative morning at the Computer History Museum – which now exhibits the Google self-driving car alongside the Babbage Engine – was followed by a tour of San Francisco. The clouds broke to reveal the Golden Gate Bridge and a beautiful rainbow across the bay.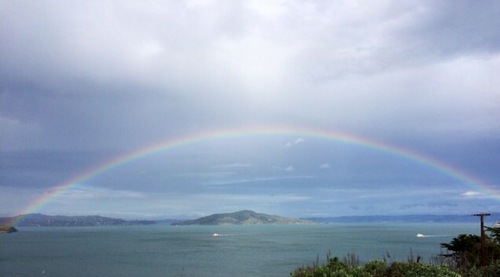 On Monday we travelled to the best known high school in the valley, Palo Alto. The children of the tech entrepreneurs come here so technology is central. Today they hosted a TED-X event and our girls took part with their US counterparts. They also saw how Aikido can be used to understand computing principles with the help of the wrestling gym!
US computing students have a great deal more flexibility over their curriculum than we do in the UK and the girls were suitably impressed with this. Tenth grade students, the equivalent of our Year 11, were following courses such as Advanced Placement and Capstone, which is an individual project course using Java. One such was a draughts game which the student described to some of our girls.
From there to The Tech Museum – a highly innovative educational museum with plenty of interactive STEM activities from DNA to space travel.
Tonight they must create their group videos based on their experiences at The Tech Museum and update their individual blogs before lights out. It's that individual work ethic which defines the people they meet here and makes these students worthy of such an opportunity.
Tomorrow, we go to Stanford and Intel…