Pictures of women in engineering found at the IET (W-Tech)
While getting lost en-route to the session on 'How to be the boss you wish you had' (which I'll blog from home, as it was interactive so I didn't get chance to dig out the laptop during the session), I found a whole board in the IET building celebrating women in engineering: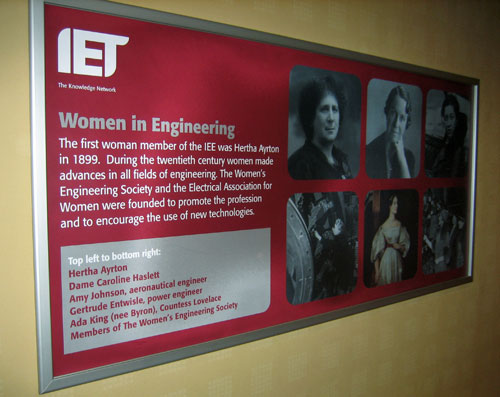 Ada I know about, thanks to Ada Lovelace Day – the others I'll have to check out later…
The only other female image so far is the woman dancing with this chap here at an Electrical Engineers' ball: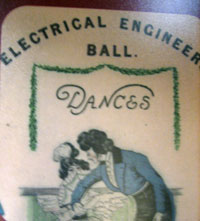 Update – the women celebrated on the IET information panel:
Hertha Ayrton was elected the first female member of the IET, in 1899. (But wasn't allowed to join the Royal Society because she was married.) She helped improve the arc lamp, invented a fan that was used to clear trenches of gas in WW1 and may have part-inspired the character of Mirah in George Eliot's Daniel Deronda.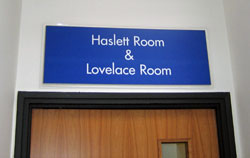 Dame Caroline Haslett was the first secretary of the Women's Engineering Society. There's a room named after her on the third floor of the IET building.
Amy Johnson was the first woman to fly solo to Australia. Probably more of an adventurer and aviation hero, really, but you did have to get involved in the mechanics of flight back then…
Gertrude Entiwsle designed machines used in power stations at Battersea and Croydon, pretty much my home patch! Early in her career she had to suffer the indignity of the men hammering metal to warn each other of her approach as she entered work – how's that for full-on discrimination?
Ada Lovelace is known as the first computer programmer. And there's a room named after her in the building too.
And finally, the IET website has an
online exhibition detailing women's struggle to become accepted in engineering and related professions.