Day 6 of Townley Grammar's California girls: Trip to Silicon Valley
Day 6
Today we were welcomed by the "Women In Tech" Group at NetApp, the data storage and management company that for 12 years has been in the top 100 Best Places to Work. With 12,000 employees, 150 offices and 7 data centres this giant of the Tech companies boasts customers in healthcare, entertainment and even CERN.
So we were privileged to be greeted by its CIO and Vice President, Cynthia Stoddard. Voted one of the top 100 most social CIO's on Twitter in 2014 she was well placed to explain to our girls why the company has such an enviable reputation.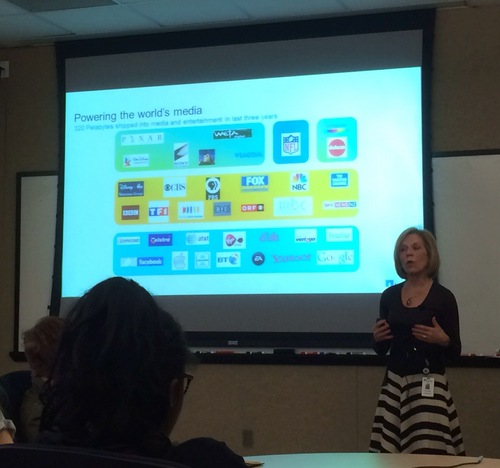 At NetApp the personnel leave their titles at the door and certainly there was a sense of equality amongst the VP and the 5 women from engineering, advanced technology, pre sales system engineering and performance engineering. New employees are welcomed into a family and it has to very much be a two way fit.
These very individual women shared their top tips for women with a passion for technology;
embrace your passion; work hard, it's more important than IQ; continue with Math, it's logical thinking that will serve you well; learn from others; leverage your passion by activities such as internships.
They then identified the key qualities needed for success; curiosity and a sense of adventure; flexibility for career growth; being relentless; tenacity; confidence, having and displaying positive energy.
The girls had a tour of the facility and spoke one to one with the women as well as participating in an engaging Q & A session. Then Dona Munsch,Vice President of Steelstore, which is part of NetApp gave the girls her own direct and honest perspective. According to Donna the advantage of High tech is that it is flexible, there are fewer rules and you are free to move around from one employer to another because you are so valuable. She helped the girls to understand that you needed skills in leadership and followership; and to know when each is needed. You must be able to have crucial conversations; to build your network and become a communication champ.
Finally the girls were told that as women they should enjoy being underestimated. They should be prepared to jump in and must remember that it is "never that bad". On working in a male environment they should not accept anything that makes them uncomfortable but they should "embrace your inner dude". This means getting involved in traditional "guy" things so they could always converse with male colleagues.
This is the final blog post because we now set off to LA for Warner Brothers and a visit to CalTech but I will leave you with the words of one of my students, Carina :
– "Honestly, these talks where the most inspirational talks that I have ever heard in my life! They have opened my views on which career path I really want to pursue, especially because all of the women giving talks seem so passionate towards it and also because there is a big demand for women engineers."