Somerset dodges questions over its throttling of IBM outsource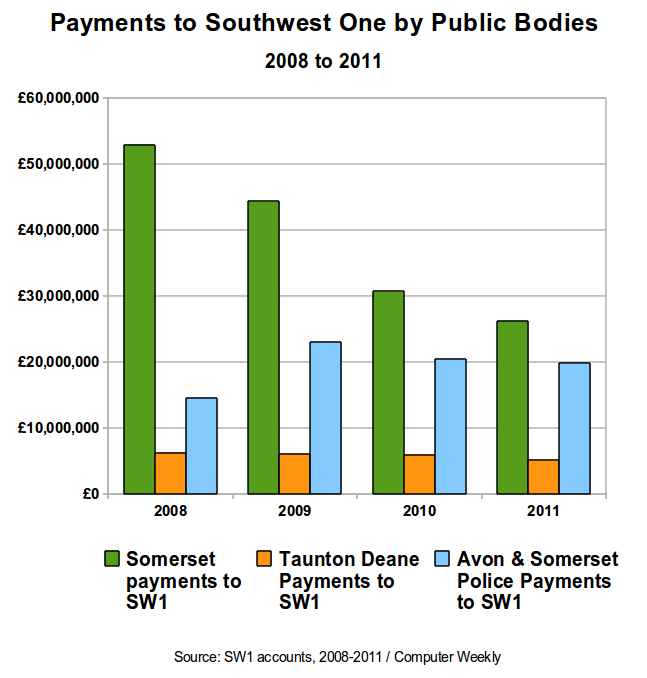 Somerset County Council has dodged questions over the reason why it imposed the blockade that caused its Southwest One outsourcing venture with IBM to fail.
Its answers would have revealed, on the eve of a local election, whether the Conservative Council leadership had intentionally precipitated the failure that it later blamed on Southwest One. It would show whether the they had chosen frontline service cuts over efficiency savings that would have made those cuts unnecessary – thus fulfilling their public aim to replace council services with private companies. It would show they lied about Southwest One to gain political kudos for their council cuts.
The council's evasion, combined with evidence of what really did happen, suggest the council was indeed to blame. It's blockade of Southwest One did precipitate the failure: that much is fact. The crucial question is why the council caused the obstruction.
Why, when Southwest One had already found more than £50m of savings for Somerset when the Conservatives were elected in 2009, did the council subsequently refuse to approve another £70m of savings Southwest One put up every year that followed. The Conservatives had opposed the Libdem outsource venture in their election campaign.
Every year for three years, Southwest One offered savings that would have added up to over £100m for the council. Every year, the council ignored them. Why?
The council refused to say, So Computer Weekly asked again under the Freedom of Information Act.
Now the council has said – in testimony under FOI law – that it does not know why it stopped approving Southwest One's savings. It refused to recognise the savings were ever proposed at all.
Ignorance
Computer Weekly asked about a crucial £76.6m of savings Southwest One has had on the table since 2010, and has been repeatedly ignored by Somerset. The first £58m of savings Southwest One put up before 2010 were approved by the council immediately.
"The £76.6m does not represent proposed savings offered to Somerset County Council in any format or forum," said the Council's FOI response.
"The value represents an undefined number of possible ideas presented by Southwest One around this time, that may at some later stage emerge as firm proposals, and thus be presented in the correct forum for mutual agreement and sign off by both parties
"Consequently, anything other than a firm proposal, backed with supporting evidence and processed through the contractual mechanisms agreed, is not information that SCC holds and therefore we are unable to respond to your request," it said.
The council did not approve the savings, it said, because they were never really offered. But this story didn't stand up.
Contrast
Paul Harding, performance & client manager for Taunton Deane Borough Council, a neighbouring authority that joined the Southwest One venture, said Southwest One routinely offered savings. Taunton Deane regularly implemented them.
"A procurement update report goes to our Corporate Scrutiny Committee every six months," said Harding.
"It's been an upward curve, year-by-year. Each year we've been delivering savings and signing off new initiatives.
"There needs to be a business case – some form of procurement activity. That's investigated by our finance people, to check the business case checks out. And if that's the case, the savings are signed off as being identified as realistic."
John Williams, Conservative leader of Taunton Deane Borough Council, said how well he thought this had worked.
"As far as we are concerned, the relationship with Southwest One is working, has worked and will continue to work," he told Computer Weekly.
Even the possibility that Somerset had simply found Southwest One's savings schemes to be unrealistic does not stand up to scrutiny.
Lawsuit
Last month Somerset settled out of court on a claim brought by Southwest One over the savings. Neither party will speak about the lawsuit. But one source close to action said this: "It was linked to the process of how Southwest One had been signing off, or not signing off the savings. The dispute was about the council not signing off the savings."
Settling out of court, the Council was able to able to make the issue go away without admitting liability. Now it must be asked if the timing of the settlement betrayed the council executive working to protect the elected party from embarrassment. Or whether, despite all appearances, Southwest One had been such a genuinely abject failfure for Somerset that the council just had to be shot of it as best and as quickly as it could.
Somerset's annual audit statements, along with Southwest One's annual accounts, had already shown how the savings proposals were as good as Taunton Deane claims. That initial £58 of savings were quickly approved.
Smoking gun
Documents the council released to Computer Weekly show how this added up. Southwest One had, for example, negotiated savings by 2010 of £30m for social services and £10m for transport, to be realised over 10 years that the contracts would run. It had barely got started on the work the Libdem council had contracted it to do.
Now that Somerset has reclaimed services it outsourced to Southwest One in 2007. It has ensured the venture will never deliver the £190m savings it originally promised. The venture may nevertheless limp on.
But because Southwest One was a shared services venture and Somerset was the major partner, the County Council's withdrawal from parts of the contract have now forced Taunton Deane to cut its outsource back too. Somerset's obstruction of Southwest One may turn it into a failure for all involved.
Both Somerset and Southwest One meanwhile proceed with apparent contempt for public scrutiny. Southwest One was, as often, unavailable for comment. Somerset was reduced to using truisms to evade answering its FOI request.
Asked by Computer Weekly what was the deciding difference for Somerset between those Southwest One savings schemes it approved and those it ignored, the council said those it had approved were savings it had approved while those it had not were not.
Or in FOI speak of the sort that will be familiar to anyone used to seeking such statements from officialdom: "The £58.5m comprised of savings proposals that had been appropriately proposed and processed within the defined protocols of the contract between SCC and SWo, mutually agreed as being likely to generate savings. The latter were not."