Computacenter row threatens blockhead end for open source in Bristol
IT giant Computacenter has raised the prospect of legal action against a small open source supplier for complaining to Parliament about its "Microsoft bias".
The veiled threat followed a letter sent to MPs on the Public Administration Select Committee (PASC), in which Mark Taylor, chief executive officer of Sirius, described a project involving Computacenter he said exemplified the the government's declamation of large IT suppliers: that they dominated the market and crowded out competiton.
Computacenter stated on learning of the letter it was seeking "advice" because it was "potentially libellous". It now says making such a statement did not in itself constitute a threat.
That depends on your perspective. Mark Taylor, chief executive of Sirius, which with a £2.3m turnover is about one-thousandth Computacenter's size, was scared stiff when he heard about this. Yet if Computacenter did sue him for being a whistle-blower, it may prove his point.
The Parliamentary committee to which Taylor sent his letter is exploring allegations that companies like Computacenter abuse their market power by punishing small suppliers when they don't keep in line.
The big IT suppliers are so powerful, it is said, they control the vast majority of public sector IT, which is done in their commercial interest. That may count as quid pro quo from supplier's perspective. But when that supplier is part of an oligopoly servicing a monopoly, it is a little unfortunate for anything trying to breathe outside that comfortable little world that has become known as government IT.
This must be most upsetting from Computacenter's point of view too. It has a certain Blue-chip reputation it must present to its customers. Anyone trying to daub the façade with graffiti must be firmly stamped on.
Computacenter has declined to say what offence it has taken with Taylor's letter. It is seriously perturbed, however, at being identified as one of the boo-hissstems integrators that are said to treat SMEs so poorly.
The multitude of winds that have whipped up the current bout of government IT reviews and inquiries (in the name of SMEs, agile, procurement reform, open software, open standards and open markets) threaten an existential crisis for the large suppliers.
Microsoft bias?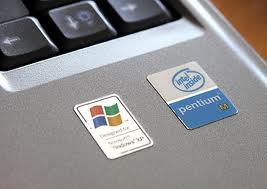 Take for example the question of whether Computacenter has a Microsoft bias. It's like asking if the Pope is a Catholic.
Computacenter built its business selling "Wintel" computers and infrastructure. When it made 30 employees millionaires overnight on the occasion of its 1998 flotation (link: sic), it was thanks to the Wintel computing boom. It has branched out a little over the years: it now does services too: though mostly on farms of Wintel computers for big corporations. And while it has its customers' interests at heart, it is essentially like a great, huffing bull with Microsoft branded on its balls.
Computacenter's boom years were the late 90s when the corporate mantra was economies of scale. Customers got the economies of its scale by buying thousands of Microsoft computers. Now the market has gone sour and the typical contract has become so large that only Microsoft suppliers can satisfy them because only they are large enough.
Sirius discovered this after writing Bristol City Council's ICT strategy this time last year. Bristol was down with its open source angle and adopted its recommendations. Sirius then couldn't pitch for the work because it wasn't on the official procurement lists. It went in with Computacenter but was shown the door, said Taylor's letter to MPs, when he protested over the Microsoft bias CC had put in Bristol's proof-of-concept open source pilot.
It would be a terrible irony if the project failed because Bristol had no choice but to ask a Microsoft reseller to demonstrate how an alternative to a proprietary infrastructure might be feasible. It would also be shameful for Bristol, a City that that has made the Zeitgeist its identity: multicultural, ecological, collaborative, egalitarian, open. That's what people from Bristol say about their own City. So if not Bristol then where?
If Computacenter's pilot finds against open source, more than seven years of work at Bristol would have been for nothing. Bristol's entire infrastructure would be based on infantilising proprietary technology and its vision of being a Digital City regenerated by a small army of creatives up to their arms in collaborative computer code would be somewhat obscured.
To understand how awful that would be, imagine Bristol's vision being one of municipal authority as bountiful Big Society fount, its computer systems built open and spread like nourishing tributaries throughout the City. Or imagine, conversely, great multinational corporations sat atop the globe like gluttonous octopuses, their proprietary software systems sucking the life and inspiration from the computing generation.
You might detect a little bias there. It's merely one point of view, though one Computacenter is unlikely to plaster over mail outs funded by its next injection of Microsoft marketing development money.
Corporate image
That doesn't mean Computacenter can't get with the programme. But Microsoft and its reseller Computacenter, the model of the noughties corporation, represent the antithesis of the Bristol zeitgeist: monocultural, rapacious, tight-lipped, dog-eat-dog, proprietary.
Granted, Computacenter looks fairly enlightened when viewed from within the retarded world of the City of London. In its last financial results, Computacenter chairman Greg Lock proudly declaimed how the corporation had achieved enlightenment: it had adopted the UK Corpote Governance Code, "not simply because we must do so, but rather because it is the right thing to do."
And bravo. Don't worry that the Code's key principles read like the listing for the soundtrack of Thatcher's Britain: "Leadership, Effectiveness, Accountability, Remuneration, Relations with Shareholders".
If a corporation is an organism and the board of directors its brains, the Code is comparable to one of the first great periods of human enlightenment, when prehistoric man first started organising into paternalistic clans governed by power tempered with honour.
It is progress a little in advance of that earlier enlightenment when pre-prehistoric man learned to adulate the heavens. Ug. Heavens: glorious. Me: glorious. You: cower, worm, before my competitive mastery. Though its morality is essentially tribal.
This may explain why Taylor this week accepted a post on an SME board being established by the Cabinet Office to help them tackle the problems they are too scared to air in public. There might be safety under the shadow of reforming minister Francis Maude.
Since Taylor was one of the key players behind both the coalition government's and Bristol's ICT strategies, you would imagine him wily enough to deal with a lumbering corporation like Computacenter on his own. That is assuming Computacenter's Microsoft bias has indeed scuppered Bristol's open source pilot. Both Bristol and Computacenter say the game's not over. Taylor says Computacenter elbowed him out and submitted assessments that had been fixed to favour Microsoft.
After slogging away for 30 years by the rule of Mammon, Computacenter may have just lumbered innocently into the midst of a political thorn bush. It might now look up and see how much is riding on Bristol's pilot. It's failure will mark the failure not just of Bristol's ICT strategy but of Maude's and Taylors.
Computacenter would do well to back up and consider while licking its wounds how the idea of software freedom has taken hold in mainstream politics. If it does anything else it will end up looking like the ignorant box shifter it has long tried so hard not to be. Why not give Bristol what it wants?