Who writes Linux, anyway?
The Linux Foundation gets personal again this month with the release of its annual "Who Writes Linux" development report.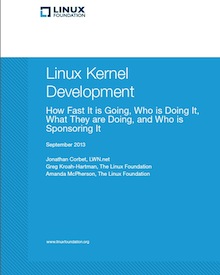 Produced to coincide with this September's LinuxCon and CloudOpen, the report surfaces new data on how fast the Linux OS is being built, who is writing the code — and, what companies are sponsoring the work.
An army of 10,000
This year we learn that nearly 10,000 developers from more than 1,000 companies have contributed to the Linux kernel since tracking began in 2005.
Mobile and embedded companies are increasing their investments in Linux —
— and in this zone we see that Linaro, Samsung and Texas Instruments together increased their aggregate contributions
Google's contributions are also up significantly this year.
The Top 10 organisations sponsoring Linux kernel development since the last report include:
 Red Hat,
 Intel,
 Texas Instruments,
 Linaro,
 SUSE,
 IBM,
 Samsung,
 Google,
 Vision Engraving Systems Consultants and,
 Wolfson Microelectronics.
After appearing on the list for the first time in 2012, Microsoft notably dropped off the list entirely this year.
"Linux represents the future of how new software and technologies will be built. Understanding how it's developed is important to the industry," said Jim Zemlin, executive director at The Linux Foundation.
Who Writes Linux Sept 2013.pdf