Red Hat: women in open source, anything less would be akin to proprietary
This week sees Red Hat host its 11th annual 'Summit' conference, exhibition, symposium, developer hackfest, analyst & press outreach session and all round communications to partners and customers smorgasbord.
Restroom barometer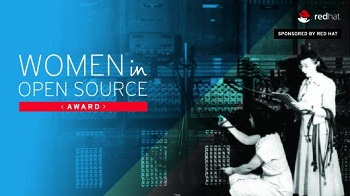 Attend any major tech industry event these days and you can always sense the imbalance once you need to use the restroom, bathroom, comfort facilities or toilet (Ed – same thing) i.e. there's a male-female imbalance.
Computer Weekly does a good job of investigating and reporting upon women in IT issues, but there is still much work to be done in many respects.
Anything less would be akin to proprietary
Red Hat thankfully devotes some of its event efforts into a programme dedicated to highlighting the need for women in modern development teams that MUST be structured with collaborative input from 'people' across the full spectrum of sexes, genders, race, religion, creed and hairstyles etc.
This spectrum is only complete with the inclusion of a more equal balance of female programmers, obviously.
… and the winners are
Sarah Sharp, embedded software architect at Intel and Kesha Shah, a student at Dhirubhai Ambani Institute of Information and Communication Technology are as the winners of the first Red Hat Women in Open Source Awards.
NOTE: The Women in Open Source Awards recognise women who make important contributions to open source projects and communities or who promote open source methodologies. The awards recognize open source contributors in two categories: Community and Academic.
Sharp won in the Community category for her tireless efforts in improving communications and women's roles in the open source community. Sharp is a co-coordinator for Outreachy (formerly the Outreach Program for Women), which helps underrepresented groups get involved in open source software projects.
She is also an outspoken proponent of improving communications among Linux kernel developers and making open source communities more civil, collaborative, and welcoming. Sharp was the author and former maintainer of the Linux USB 3.0 host controller driver, and developer of amateur rocket software and hardware for the Portland State Aerospace Society.
Shah, a full-time student, won in the Academic category for her outstanding coding and mentoring work while studying information and communication technology. Being part of Google Summer of Code program multiple times, Shah contributed to three open source organizations, Systers – an Anita Borg Institute, BRL-CAD and STEPcode. She also mentored at Season Of KDE, Learn IT Girls! and Google Code-In, helping pre-university students from across the globe develop their first open source contributions, and is currently director for Women Who Code in Gujarat, India.
Shah was a recipient of the prestigious Google Anita Borg Memorial Asia-Pacific Scholarship, and Anita Borg Pass It On winner for teaching basic computer and smartphone technologies to middle-aged women, especially mothers in her province. Shah has mentored many students on their initial open source development contributions and guided many of them toward becoming regular contributors.
As part of their awards, both Sharp and Shah will each receive a $2,500 stipend and be featured in articles on opensource.com. Sharp also received complimentary registration, flight, and hotel accommodations to attend Red Hat Summit, and will speak at a future Red Hat Women's Leadership Community event.
Ten finalists for the Women in Open Source Awards were chosen by a panel of nine judges. The winners were determined by members of the open source community, who cast their votes over a period of several months. Complete criteria can be found at the Women in Open Source Awards site.
What the winners say
Sarah Sharp, embedded software architect, Intel
"Most of my career has been dedicated to encouraging women to become involved in open source software development and fostering greater collaboration among the open source community as a whole. I'm very honored my peers have chosen to recognize my efforts in this area, and proud to be among the first Women in Open Source Award winners."
Kesha Shah, student, Dhirubhai Ambani Institute of Information and Communication Technology
"As someone who's passionate about open source software – and even more passionate about helping other women break into the field – this recognition means a great deal to me. I'd like to thank Red Hat and my peers for honoring my efforts in open source development, and I look forward to continuing to mentor new open source contributors."
DeLisa Alexander, executive vice president and chief people officer, Red Hat
"We're thrilled to announce Sarah and Kesha as the first recipients of the Women in Open Source Awards. Sarah and Kesha epitomize the passion and talents that women bring to open source communities. Red Hat is proud to recognize their contributions and will continue to do our part to bring more women into open source."