Novell's cloud-based applications library: free membership now open
As cloud-based applications start to come down to earth and companies start to place their faith and trust in this new IT delivery model, the logical progression path for the industry is for some sort of classification model to emerge so that we can chose one over another.
There are probably too many still-nascent technology standards for any solid classification or categorisation system to emerge as yet, so the best we may hope for perhaps is an aggregation tool or library that will act as an online shop.
Aiming to fulfill part of this industry need, Novell's SUSE Gallery is a new online showcase for registered SUSE Studio users to publish their Linux-based software appliances and cloud-based applications.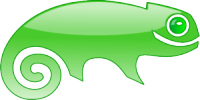 Part of the SUSE Appliance Program software distribution initiative, SUSE Gallery claims to provide end users with a storefront to over 415,000 software appliances, which benefit from the flexibility of a delivery channel where hardware is essentially 'decoupled' from software to provide greater flexibility.
According to Novell, "With SUSE Gallery, end users can browse published appliances for the solution to their particular commercial or personal need and then download the appliance free of charge. For independent software vendors (ISVs) and other software developers, SUSE Gallery represents an opportunity to broaden the exposure of their application and reach an entirely new audience."
The company hopes that SUSE Gallery will help software vendors accelerate their customers' evolution to a virtualised data centre as they progress on their journeys towards cloud computing.