Mendix 6: offline functionality in mobile is key for rapid (RAD) programmers
Mendix is one of those companies that says things like — we drive digital innovation by empowering customers to bring new digital products to market.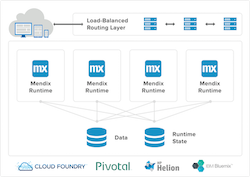 It's generically non-specifically hard to swallow, right?
What the firm actually does is produce a rapid application development platformŠ for software engineering.
The firm's new Mendix 6 version is remarkable for its support for offline functionality in mobile applications — it also has a model API and open source platform SDK offering enhanced import & export of application models.
Derek Roos, Mendix's CEO and co-founder says that Mendix is the first in the industry to offer out-of-the-box offline mobile support across platforms and devices through a model-driven rapid mobile app development approach.
"Without any code, rapid developers can build mobile applications that make use of static resource storage, read access to data, and data entry caching to maintain consistency of user experience and performance even when disconnected or offline," he said.
The Mendix 6 Model API and open source Platform SDK also boasts the chance to eliminate vendor lock-in – with the new model exchange functionality, application models can be easily exported for documentation purposes, or to port applications to other platforms, increasing transparency and eliminating lock-in concerns.
Model import capabilities support automated cloud migration of legacy applications, allowing (so says Mendix) teams to accelerate application modernisation at massive scale
Also here, new API's allow static analysis on application models to check for inconsistencies, ensure quality standards, and improve maintainability.