Google to Chrome developers: this is a pivotal moment for the web
Google has hosted its Chrome Dev Summit 2015 to an audience of what appears to be a select few, with minimal press openings.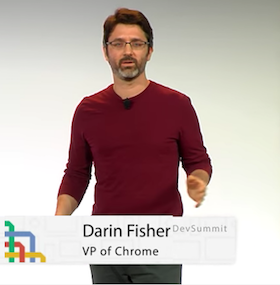 What does seem to have emerged from the event is commentary relating to what has been called 'progressive web applications' today.
With the web vs. native app debate raging as it is, Google's camp is (obviously) firmly settled on the web as opposed to native side.
Google's own Chrome VP of Engineering Darin Fisher has noted that Flipboard saw a 75 percent growth in mobile active users after it launched on the mobile web.
NOTE: For those that have yet to encounter it, Flipboard is a social-network aggregation, magazine-format mobile app localised in more than 20 languages.
Fisher quoted Flipboard CEO Mike McCue's assertion when he stated that all great apps need to be on the web, especially the mobile web.
In a follow up blog to his presentation, Google's Fisher has said that top mobile web properties are seeing 2.5 times the number of monthly unique visitors compared to the top mobile apps, and mobile web reach is growing at more than twice the rate of mobile app reach.
A pivotal moment
"We believe this is a pivotal moment for the web platform, as early adopters of a set of key enabling technologies and tools are seeing success. During the keynote, we covered the evolution of the mobile platform and the shift towards 'progressive web apps', which are fast, robust, app-like experiences built using modern web capabilities. The web has come a long way, and building immersive apps with web technology on mobile no longer requires giving up properties of the web you've come to love. Flipkart's new mobile web experience is a great example of a progressive web app that uses the new capabilities to provide a next-generation user experience," said Fisher.
NOTE: Flipkart (as opposed to Flipboard) is an Indian e-commerce giant
You can view the keynote here.