Experimental coding project opens up Sony SmartWatch
Sony has pushed its Bluetooth SmartWatch project to a more open status with an invitation to software application developers to now design, develop and code applications and ancillary firmware and/or other extensions to the device.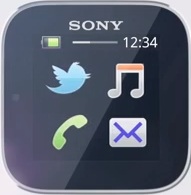 Reports suggest that "most consumer complaints" relating to the SmartWatch are focused on the software that comes bundled with the unit.
The firm has made some attempt to address these concerns by holding an Arduino community hackathon in Malmo, Sweden.
According to the hack team — "Sony Mobile är i färd med att öppna upp sin Sony SmartWatch" or…
… "Sony Mobile is in the process of opening up your Sony SmartWatch"
The Open SmartWatch program is Sony's direct call to developers to get coding for the watch.
"Openness towards the developer community has been an important driving force for us for a long time. We've have, for example, published everything from open sourced binaries and code examples to DASH, and made it possible to unlock many of our smartphones and tablets. We're now adding an experimental project we call Open SmartWatch to that list, resulting, we hope, in a lot of innovation. It means we'll make it possible for advanced developers to create and flash alternative firmware to Sony SmartWatch, by sharing technical details and instructions," said Sony.