Do you Ubuntu - or do you do 'poo poo' Ubuntu?
The Ubuntu "server team" and Canonical are in inquisitive lot, they want to ask the community just exactly how it is using the Ubuntu Server Edition — and in what kinds of organisations, scenarios, environments and/or deployments — hence the Ubuntu Server Edition was born and is now in its third year.
Canonical says that Ubuntu Server Edition is one of the most popular operating systems on public cloud environments and has established itself as the core host Infrastructure-as-a-Service solution for private clouds. The company says that this has come about as a result of the OS proving that it can perform numerous standard and critical tasks in multiple environments.

The results of last year's survey can be found here — this year's survey will seek to gain knowledge to improve future product releases, prioritise feature requests and guide partnerships to add technologies.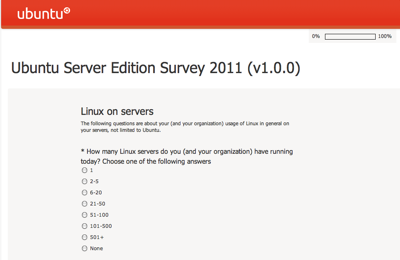 Canonical says that this anonymous survey takes 10 to 20 minutes to complete and is open to anyone deploying Linux servers today, whether or not they use Ubuntu. Results will be shared publicly at the beginning of February.