An open source Christmas with Kano
It's November 24th, so it's now officially Christmas right?
What better time then to be thinking about open source Christmas gifts — or, if you happen to prefer more politically correct (PC) terminology: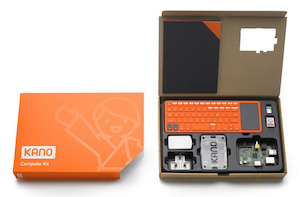 Now is the "holiday season also incorporating Kwanzaa" for the PC-aware.
So this season, what every open sourc-erer wants might just be Kano, a computer kit that comes will all the functions needed to build it and learn to code afterwards.
"Children as young as eight have used it to make games, choreograph music, animate characters," says its makers.
"A computer and coding kit for all ages, all over the world. Simple as Lego, powered by Pi. Make games, learn code, create the future."
The Kano website explains what is inside the kit and features the below video of a child putting the whole machine together in 1 minute 55 seconds.
According to opensource.com there is code on GitHub and their blog of endless Raspberry Pi-and-Kano-inspired projects from events they hold in the community.
Kano costs US $149.99 and is available with US, EU, UK or AUS electrical plug options.