Playing the long game with Tesco's Philip Clarke
Patience is a virtue when you are in the business of interviewing senior managers. In some cases, I waited for years and jumped countless hoops until I was granted a five-minute interview over the phone, with several PRs on the line, editing every single answer.
In other situations, I met certain executives several times for coffee, lunch, dinner or drinks, as well as art exhibitions, awards, horse races, concerts and all sorts of social events before they agreed to be interviewed: they would grill me first and carefully analyse my answers and behaviour, before agreeing to tell me about their plans for IT at their organisations.
All of this was child's play when compared to trying to secure an interview with Philip Clarke, IT chief and CEO-elect at Tesco. When his appointment to the top job was announced, I picked up the phone within seconds to ask for my five minutes with the man, only to get "no" for an answer. Of course, I insisted, much to the annoyance of Tesco's PR folk.
Clarke has a very limited personal web footprint and no LinkedIn account, so the task of tracing him and effectively bypassing the gatekeepers became more complex. Then I had to resort to the most traditional method of communication: snail mail.
I put a copy of Computer Weekly in an envelope, with a handwritten note. I don't remember the exact words I used, but I was keen to emphasize that the fact he had been ranked as the most prominent person in technology was very inspirational and encouraging to senior IT professionals. So would he be willing to say a few words?
That's what I got in response: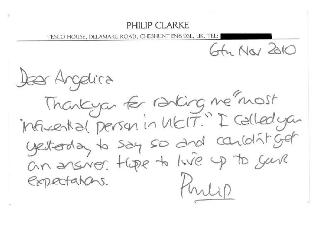 I was obviously gutted for being away from my desk when Clarke called. Rather frustratingly, I called back a few times to no avail. The card above does not include an email address, so that made things more difficult.
This time, I decided to send a full letter in response (probably the first I've written in about five years) to the chief, explicitly asking for an interview. My thinking was that, differently to emails, letters are harder to ignore.
A few days later, I received the following email from Greg Sage, international and internal communications director at Tesco:
Dear Angelica
Thanks for your letter to Philip Clarke requesting an interview. He has passed it to me and asked me to reply.
I'm afraid that due to other business commitments Philip is not currently available for interview. Should this change in the new year, I will be back in touch.
Regards
Greg
At the moment, Philip Clarke is a bit like the Kate Moss of retail. If I am not mistaken, he has not spoken to the press at all since his promotion earlier in the year. Even the national press had to run comprehensive stories without a single quote from the man, based on the limited information available publicly and opinions from others.
From my perspective, Clarke's experience of being a 'Tesco man through and through' would be of real interest to the IT chiefs that read us. Like in many other disciplines, senior IT professionals are still trying to figure out what it takes to really know the organisations they work for, to be accepted by their 'business' peers, to get to the top.
It is not easy to get to that stage, particularly when it comes to IT. And when Clarke is willing to tell me how he has done it, I will be waiting for his email, call, letter or smoke signal.