Should I outsource my IT onshore, nearshore or offshore?
Professor Ilan Oshri at Loughborough School of Business has contributed this article to the blog. He recently set up the Centre for Global Sourcing and Services' (CGSS) at the university to do independent research on the trends and practices in global sourcing of IT and business services and to improve sourcing practices.
Here he gives his views on some of the choices facing businesses when outsourcing.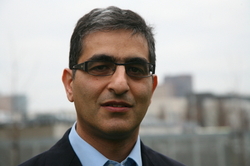 On-Shore, Nearshore or Offshore – Are You Sure?
By professor Ilan Oshri at Loughborough School of Business
"In 2011 the market for information technology (IT) outsourcing worldwide was reported to be $270 billion and for business process outsourcing (BPO), $165 billion. Recent estimates predict that between 2012 and 2014, ITO growth will be 5 to 8 per cent per annum and BPO growth 8 to 12 per cent per annum, with the BPO market size worldwide overtaking the ITO market.
Based on my research from 2011, over 50% of Fortune 250 global firms have offshored work by setting up their own subsidiaries to provide IT and business services from remote locations. And latest KPMG study indicated that since late 2011 investments in shared services have exceeded those made toward 3rd party outsourcing. No doubt that we are witnessing one of the most significant transformations in business in modern times: the disaggregation of the firm's value chain in particular in the area of information technology and business processes. What does this mean for many organisations?
Put simply (or maybe not): organisations can either outsource to a local vendor (domestic outsourcing), or to a near-shore vendor or perhaps to an offshore vendor. But firms can also set-up their own captive centres in a near-shore or an offshore location. And firms can also establish their captives as shared services by consolidating several functions into one centre. Confused? So are the many firms that are considering to embark on outsourcing or offshoring. Their favourite question has been: where and how I start my global sourcing journey?
Our extensive research into outsourcing and offshoring has attempted to offer some direction. As in any journey the very basic questions are probably the most important ones. Our most favourable question to client firms has always been: why would you like to outsource or offshore and what are you trying to achieve? Quite a few of the firms we have held conversations with about outsourcing have decided to outsource simply because other firms in their industry were doing so. Their strategy was 'if others are cutting costs through outsourcing, we should do so also'. Unfortunately, there are quite a few horror stories about outsourcing projects that have proven us that such a strategy is faulty.
Success in outsourcing is often the result of good preparation on both sides: the client firm and the vendor. Client firms should prepare their IT or business processes for outsourcing by clearly defining their expectations from such partnership while vendors should investigate and realize the client's level of readiness for outsourcing. Short cuts or over-confidence that things will be OK are just recipe for disaster. BskyB and EDS learned the hard way what they should not do in their outsourcing engagements!
The subsequent question is about the client firm's ability to manage vendors. While the potential cost saving is attractive and the promises to benefit from significant innovation made vendors often seem as an offer 'one cannot refuse', in reality much of the client's ability to appropriate value from its vendors depends on the strength of its own sourcing management capabilities. Clients with a thin ability to manage vendors might find themselves struggling to work with a single vendor, let alone trying to follow the current trend in which quite a few client firms put together a team of vendors with the hope to benefit from on-going competition between the vendors. Assuming that the client is capable of managing more than one vendor, the third question that pops to mind is: offshore, near-shore or onshore?
In the current economic climate it would be politically correct to pursue an onshore setting. By contracting with an onshore service provider, client firms keep and sometimes even create jobs in the UK. Such an arrangement might not offer the scale that many vendors developed offshore or even near-shore, allowing them to offer bigger cost savings to their clients. Also, by relying on onshore vendors, client firms might restrict their ability to access talent they are after. And with governments tightening their immigration law, vendors might be struggling to develop a viable business case for operations onshore.
So if not onshore, perhaps near-shore? Contracting with a near-shore vendor is an appealing proposition. Just imagine that your vendor is only an hour flight away, one hour time difference and some of its employees can even relate to your culture (say discuss last night's football match). Cost savings should be more significant than onshore and access to talent that can carry out various IT and business process activities such as programming and call centre operators, is relatively good; however, not as significant as they can be offshore. Also, access to talent is limited in scale in particular in the area of engineering. So what would you do if you have decided to outsource IT maintenance and software development? Consider Poland as a near-shore location for your IT operations or take the rather well travelled road to India?
If indeed offshoring is the more appealing value proposition for your business, our next question is: are you ready for the ride? Don't get us wrong. Many firms have successfully offshored to India and other Asian, African or South American countries. But embarking on such a journey requires you to realize the challenges you will facing and devise a plan to mitigate them, in most cases in a contingent manner. Some of the challenges are because of cultural differences while others are more operational. But all of them require attention as distance, time zone and culture differences will be posing significant challenges to you. If you find it hard to believe, ask Toad Anderson from the movie 'Outsourced'.