80% of IT professionals have had no real pay rise in five years
A recent survey created by a reader of this blog has revealed the issues facing IT professionals in the UK.
Yesterday I blogged about the skills being brought into the UK from offshore and the fact that most were low level, according to the survey findings.
Today the findings I am revealing are how our 170 respondents' pay has changed in the last five years. The theory goes that if there is a skills shortage, those with skills will be in high demand and their pay will increase.
So the survey asked the question: UK employers have been complaining about "skills shortages" for years, one would expect this demand to be reflected in IT salaries, so has your salary increased significantly in real terms over the last 5 years (excluding promotions)?
And the survey said: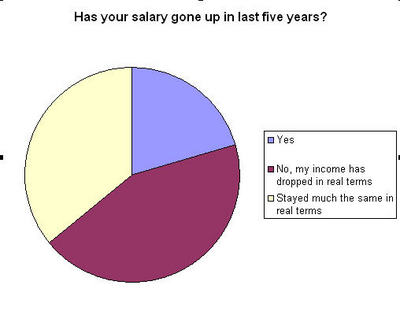 Only 20.5% of the respondents have had a pay rise in real terms. What are the reasons for this? Is it the recession, offshoring or the lack of training holding careers back?
But if the skills being brought in are low level shouldn't that be a sign that UK workers should skill-up. Mind you it sounds like many of the workers with low level skills are taking on more complex roles and having to be trained to do so.