Video review: Nike+ SportWatch GPS - I want to run again.
Today is the first day in my life that I have gone out for a run. It's not because I'm against exercise or that I'm not capable.. or that I'm a lazy fat b*****d.
It's because I think it's boring and I'd rather play sports. But today I had a reason to run. It's not only a cool / good-looking reason but also a fun and encouraging one, the Nike+ SportWatch GPS.
I think I'm gonna want to run a LOT more now.
What is it?
Nike+ has been around for a while and I've used it to play football with a number of times. For that purpose it works fine and gives you some decent statistics but I always thought that the lack of GPS wouldn't make it great for running. In football you don't want detail but when you go for a run, it's addictive and encouraging.
This changes all of that. Nike teamed up with TomTom to add a GPS chip into this watch to track distance, speed and map your runs while counting calories. You can also use a heart-rate monitor.
You can even still use the Nike+ sensor for when your GPS drops.
brightcove.createExperiences();
Looks
I LOVE the look of this watch. Genuinely I would wear it regardless of whether I'm running or not, it's that cool.
Nike obviously know a thing or two about making a good looking watch but this one is insanely cool, grabs attention and, when you've got their attention firmly in the palm of your hand, then blasts them with all the wicked gadgetry!
The guy sat behind me uses a Garmin Forerunner watch for his runs and while it looks like it works well, it looks ugly. Seriously ugly.
The clasp is hinged and locks tightly. When running it hardly moves but stays comfortable.
The clasp isn't just good, it's a f***ing USB port too! It's so clever and such a fantastic idea.

Using the watch
The screen is crisp and clear. The numbers and words are huge which is great for glancing at when you're running.
I didn't know this at the time when I went for the run, but I've since found out that you can slap the screen to mark your laps! How awesome is that? I love slapping stuff and this makes it worthwhile.
It has three neon buttons to help you navigate through the menus which is easy peasy. The watch stores your history and personal bests even letting you know when you've broken it. [See what I mean about fun and addictive]. It also calculates pace, distance and calories.
It took around twenty seconds to connect to a satellite. As I mentioned before, using the Nike+ sensor, it can act as a fallback in case your signal drops. Mine stayed constant but then I was running in Hyde Park so.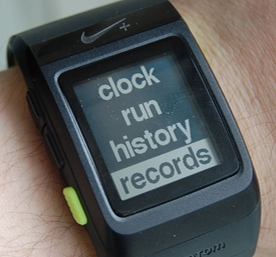 Uploading your stats
Getting back to the office and showering, I was eager to find out how well, or how badly, I'd done.
Uploading my stats using the Nike+ software to the nikeplus.com website was easy and quick. When you get up and running (excuse the pun) it maps your run and even shows you where others ran in your area using a crowdsourced 'heat map'. Awesome awesome awesome.
You can see your route using either map, satellite or terrain views (like Google Maps) and set yourself some new goals.
Conclusion
This watch is fantastic. For someone that doesn't run, I have can see exactly why you would want to run and how great it must be to challenge yourself.
The watch is well thought-through from when you open the box until you check out how you did compared to others on your computer.
Even though the price is quite a lot for a watch, I think it's essential for people that go running regularly.
The fact that it looks good is just a big fat bonus!