Sony Ericsson Xperia X10 review - Sony are catching up!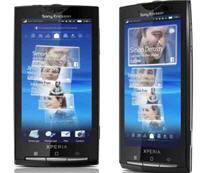 Sony Ericsson may fall behind if they're not careful due to the rise of HTC and Apple, in the past couple of years, taking over from Nokia.
It's a shame because I was the happy owner of a Sony Ericsson K800i. I loved the phone.
Great camera, sound and good user experience. For a while, Sony Ericsson looked to have lost their grip but now look to have caught up with the Xperia X10, their first Android smartphone (Android 1.6).
Sony Ericsson have said that they will upgrade the OS to Android version 2.1, during Q4 2010, and it will include additional tweaks including HD recording and DLNA support. Full details at the bottom of this post.
Look and feel
This is quite a sleek and sexy phone. Black and shiny with a slightly understated look about it.
It sits well in my hand and has a good weight to it. It's a solid phone, I imagine dropping it and not seeing any damage and the screen seems strong too.
Let's get one thing straight though, this is a very large phone. this is mainly due to the 4″ capacitive screen which is a joy to look at even if it means you have a bulge in your pocket.
Compared to the iPhone and HTC Hero, it's obviously bigger. It's a personal thing as to whether that bothers you or not. It did at first but I got over it quite quickly.
The screen is very responsive and very bright.
Software
As you'd expect with Android, it's a great OS but Sony Ericsson have added 'Timescape' which is similar to HTC's Sense.
Timescape takes all of your contact's information and not only keeps it in one place but it also displays them in a neat transparent tile format.
I like Timescape a lot, and it's quite a joy to use but there is a bit of a lag jumping from one piece of information to another. While it looks cool and can impress your friends it isn't as functional as Sense or Motorola's MotoBlur.
The phone has a 1GHz Snapdragon processor, so it is very fast. Something that definitely shows in comparison to some other Android phones.
Audio and camera
This is where Sony Ericsson excel normally and the Xperia X10 does not disappoint. The camera is fantastic. Eight megapixel as good as you would expect from a Sony Ericsson. The K800i I had a three MP camera that took pictures better than most 5MP cameras and Sony Ericsson have continued with the same level of quality.
Looking at your pictures is also great with the large screen although I found scrolling through the pictures a little annoying as the play/pause button sits on the picture which made pointing at it difficult.
Another plus point is the audio. Listening to music, through the 3.5mm headphone jack that Sony Ericsson have finally succumbed to, is crystal.
The phone also uses Micro SD storage so you can get up to 32GB of memory.
Verdict
When I first received the Xperia X10, I really had my reservations and felt like I was about to write a scathing review but thankfully I have been turned right around.
Sony Ericsson will fall behind again soon as the new iPhone is set to be released and Android 2.1 and 2.2 will soon be available on a whole host of handsets.
At the moment Android is like the son I never had, that coupled with a 1Ghz Snapdragon processor, 8MP camera, superb audio and capacitive touchscreen means Sony Ericsson have caught up in style, for now.
Don't get me wrong, Timescape isn't as good as it could be and I'd prefer an iPhone or a Desire but if you're loyal to Sony Ericsson as I once was then your heart won't be broken with this.
UPDATE:
Upgrade details:
Upgrade to Android OS version 2.1
HD video recording as per the same execution as Sony Ericsson Vivaz™
Wireless home connectivity via DLNA
Improvements to signature applications Timescape™ and Mediascape to make them even smarter and richer