Creative Zen X-Fi Style review - No Nano but still good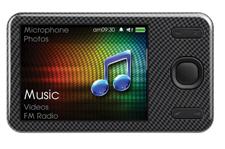 In 2005 I bought a Creative Zen Touch, which has a small touch panel that allows you to scroll up and down. It's not actually touchscreen… in fact it doesn't even have a colour screen never mind a touchscreen.
But it was completely made of metal, it still works 5 years down the line, battery life is fantastic and the sound quality is still great. Back then it was a serious contender to the mp3 player throne with some saying Creative mp3 players were far superior to Apple's range.
Since then Creative has stumbled and fallen way behind Apple in the pecking order. In fact, Creative's range is so dated and poor compared to Apple's that it doesn't even bear comparison.
I'm looking forward to seeing, and probably purchasing, the Creative Zii Egg when it finally gets released but until then Creative are struggling.
Today I find their newest addition, the Zen X-Fi Style. This would compete with the iPod Nano range and I'm pleased to say it comes very close.
The Creative Zen X-Fi Style has a 2.4-inch screen, a TV out option and FLAC file support for playing back tracks with perfect sound.
It also claims a battery life of 25 hours of audio and five of video, an FM radio, and 8, 16 or 32GB of of flash memory to store all your media on.
The X-Fi comes in at £69.99, £99.99 and £139.99 for 8GB, 16GB and 32GB models respectively
Unlike my old Creative, this is made of plastic but it's very solid while still feeling extremely light.
It also supports RSS feeds but quite frankly the fact that you have to download them onto the player without wifi or 3g means it's a feature there more for novelty than actual use.
The setup is very very simple and the video and audio quality is quite good. The screen is clear and the viewing angle isn't bad.
I'm not sure it's worth investing in one of these over a Nano, especially as the Nano has a camera, but it's cheaper and has better audio quality.
So those of you that don't want to succumb to the Apple monopoly, this is deifinitely worth a look.