5 of the best smartphone collaborations
News of the upcoming BlackBerry Porsche (or P'9981) has inspired me to create a list of other 'special' or limited edition phones.
It's going to be in two parts. First, this part will outline five of the best (for various reasons) smartphone collaborations and the second part will look at five of the worst.
So, kicking things off, here is the BlackBerry Porsche: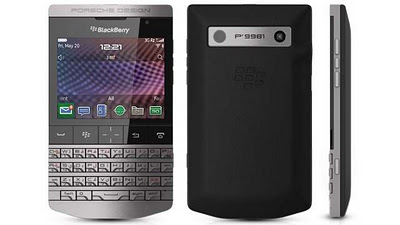 The most shocking thing about this handset is not what it looks like but how much it costs. £2000 pounds.
£2000 is a lot to pay for any phone, for that amount of money you could get a run around car! Instead, what we have here is, in Faisal's words, a phone that looks like an 80's calculator.
It doesn't even come with RIM's new BBX operating system. What it does come with though is a forged stainless steel frame, hand-wrapped leather back cover, Wikitude World Browser augmented reality app experience (not a clue?), 1.2GHz processor, HD video recording capabilities, and 8GB of onboard memory.
As for the Porsche's input? Well apart from the nicely engraved name along the top of the screen that lets everyone know how rich and, in my opinion, how stupid you are, there is an exclusive Porsche Design UI running on the handset.
I know I said that this is five of the best yet I've gone on to heavily criticise the BlackBerry, so let me explain. In terms of build quality, memory and processing speed the P'9981 is head and shoulders above devices on the upcoming worst list.
Next up, the HTC Sensation range with Beats Audio. Specifically the XE model.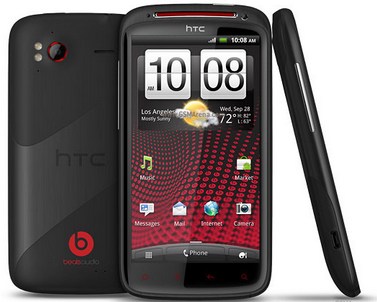 The XE is a solid Android 2.3.4 smartphone, equipped with a 1.5 GHz dual-core processor and HTC's popular Sense UI. The urban styled handset differentiates itself from the pack with the inclusion of Beats Audio technology.
Beats by Dr.Dre seems to be taking over the audio market so it is came as no surprise to hear it would be making the move to smartphones following HTC's decision to buy a sizeable stake in the company.
The device comes packaged with a pair of iBeats earphones, which cost a pretty penny if you were to go out and buy a pair, and the fact that I've seen a few people complain that the music player comes with the bass boost enabled tells you all you need to know.
Moving on, the Sony Ericsson Xperia Play, the first PlayStation certified smartphone, is third on my list.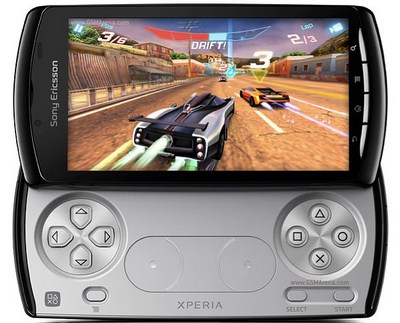 Another Android 2.3.4 (although an update to 4.0 is looming) handset, the Xperia Play is equipped with a 4″ touchscreen, a 1GHz Scorpion processor and 512 MB of RAM.
Thanks to Sony Ericsson's little Android tweaks, this smartphone would still have been a decent device before the PlayStation integration came along.
Having already used an Xperia Play
for gaming, I know the touch sensitive flat joystick replacements, PSP like gaming buttons and a super-sensitive accelerometer all make for an impressive experience, whether your playing Crash Bandicoot or Pro Evo.
In conceptual terms, this fourth smartphone collaboration is genius. Take a Motorola Droid (the old model, not the new super thin RAZR), add a bit of Star Wars magic and the end result is the Droid R2 D2!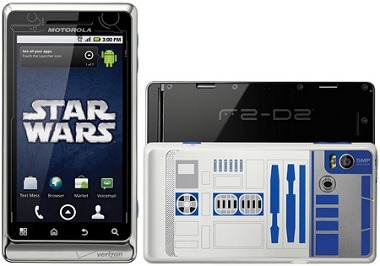 This Droid packs a 3.7″ touch Screen, slide-out qwerty keyboard, 1GHz processor and 5MP camera. However, there is no hologram projector.
If you think the only difference between the R2 D2 and a normal Droid handset is a plastic back cover and a Star Wars wallpaper, you are sadly mistaken. Oh no, the R2 D2 also comes with official Star Wars sounds (lightsabers etc I'm guessing) as well as an exclusive "The Best of R2-D2" movie with original Cantina music. Wow.
I imagine these sold well at comic book conventions.
The final phone in my top five is the Acer Liquid E Ferrari edition.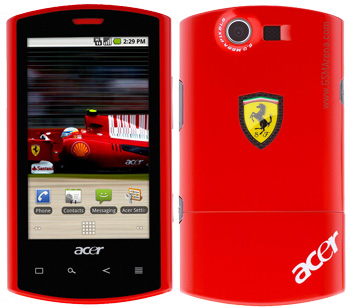 Acer aren't really famed for their smartphones and, to be honest, the Liquid E only made the list because I couldn't find any other decent collaborations.
Shipped with Android 2.1, but up-datable to 2.2, and powered by a 768 MHz Scorpion processor, the Liquid E is by no means a world beater. In fact, media playback is lousy, the camera is poor and the phone as a whole is quite slow. Quite ironic really considering it is a Ferrari edition.
Considering it's hardware specs, the asking price of around £300 is ludicrous. The selection of Ferrari sounds and wallpapers are so-so but it's the plastic case with an air intake-style vent and the carbon fibre-wrapped Ferrari logo where things start to improve.
Acer have also taken the time to try and make some personal changes to the Android OS, with small spinning wheels at the end of each of the five home screens being the main example of this.
The Ferrari Bluetooth headset is what sealed the Liquid E's place on this list.
Well thats a wrap for now.
Next week I will be listing five of the worst smartphone collaborations so keep an eye out for that.