Goldman Sachs CEO further fuels UK finance Brexit fears with second thinly veiled warning
Reports that thousands of jobs in the UK's financial services sector will be at risk post Brexit were further fuelled by another tweet from Goldman Sach's CEO.
Reports said that the Bank of England's thinks 75,000 is a "reasonable scenario" for the number of job losses resulting from a no deal Brexit. Many jobs are expected to move to remaining EU countries. Cities like Dublin, Frankfurt and Paris are certainly trying to attract banks.
We already know that the CEO of Goldman Sachs, Lloyd Blankfein, expects to be spending more time in Frankfurt. His tweet last month said exactly that, although it did not give any details why. But speculation was inevitable that this could mean more jobs moving to the German financial services cent re from London.
And this week he has left another message. Although the fact that it is the second in less than two weeks might make the term subtle no longer appropriate.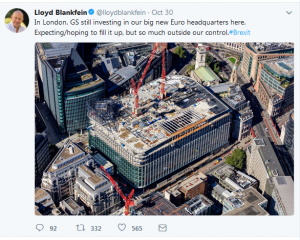 This time the tweet is about Goldman Sach's new European headquarters in London. The tweet suggests that filling the new centre with people is not guaranteed. He tweeted: "In London. GS still investing in our big new Euro headquarters here. Expecting/hoping to fill it up, but so much outside our control. #Brexit". The last part about so much being out of the companies control is interesting. Goldman Sachs, like any other company in a similar situation, will want to decide what they are going to do soon to regain control.
The building which is over 1m sq ft will/could house 6,000 people.
As I said in my last blog it is not just Europe that might see more jobs from Goldman Sachs and other big banks. The development of global delivery models in recent years has seen cities like Bangalore flourish, where bankers can rub shoulders with IT experts in vibrant business ecosystems.A potential melting pot for fintech.
Remember what happened to the big Western IT outsourcing companies when they underestimated the Indian suppliers. They still haven't recovered from allowing Indian suppliers into the global IT services market to help their customers deal with fears around the Millennium Bog.
The way the Indian companies became dominant players in the IT services sector could be a warning to the financial services sector and the UK government, which seems confident that London's undoubted financial services expertise and ecosystem, is safe. It probably is but back in the 1990's who would have thought that IBM would be struggling to compete with Indian IT services firms
Ashok Soota, an Indian entrepreneur, is very well known in the Indian IT service sector. When I met him years ago he described how Indian suppliers became global giants.
He said:
– "Before 1994 Western IT companies were not really noticing us because we were mainframe maintenance.
– Then client/server came they thought we could not do it. But we were.
– Y2K came along (millennium bug) and they thought we would go away afterwards. But Y2K gave Indian companies entry into big global customers.
– Then they did not think internet work could be done offshore, because of the need for a quick turnaround. But distance can be an advantage because you can work around the clock.
– Obviously the internet played a role. The internet reduced transaction costs. Before this big players had dedicated pipelines. Now it became possible for a mid-sized company to communicate with a mid-sized company.
– It was 2004 by the time the big Western suppliers became anxious."
At least the banks are already concerned and will be able to prepare, but the UK financial services sector might shrink and not be able to recover.
Of course that would mean fintech companies thinking again about where to put resources. A London-based fintech startup recently told me plans were in place for his company to set up a Dublin office.