Hack the Kop – the Reds are sitting ducks
Liverpool may be flying high at the top of the Premier League table right now, but when they get home after a hard-fought 90 minutes, their fans are the most likely to have had their personal data leaked, their bank accounts raided, and their Facebook status changed, according to new data from the National Cyber Security Centre (NCSC)
Based on information gleaned from the website HaveIBeenPwned, the NCSC has just released a list of the most frequently hacked passwords, including such gems as 123456, qwerty, Pokemon, Blink182 and Slipknot, in its third annual report.
The NCSC also revealed some of the most laughably insecure football-related passwords, and found a total of 280,723 entries in the HaveIBeenPwned database using Liverpool, compared with 216,677 misguided Chelsea fans, 179,065 people who thought Arsenal would have their back, 59,440 betting that Manchester United would keep their personal data safe, and 46,619 people who reckoned Everton would somehow keep out the bad guys.
What does this tell us? A lot of you are idiots and you're all going to get hacked if you don't take your personal security seriously.
But more importantly, Downtime now has conclusive proof that in cyber security (the only thing that matters), Everton has the edge over Liverpool every time.
Content Continues Below

Download this free guide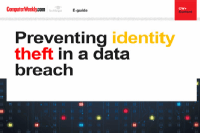 Preventing identity theft in a data breach
In this e-guide, we will explore the links between ransomware attacks, data breaches and identity theft. First, Nicholas Fearn investigates the phenomenon of the double extortion attack, and shares some insider advice on how to stop them, while we'll explore the top five ways data backups can protect against ransomware in the first place.