The secret managing director
The managing director of a Premier League side almost cost their club £1m when their email address was hacked during a transfer negotiation – but who could it be?
Our first guess was Richard Arnold – no, not daytime TV's rosy-cheeked showbiz gossipmonger – the managing director of Manchester United. Football folklore has it that the club's sale of goalkeeper David De Gea fell through at the last minute of the summer 2015 transfer window due to a dodgy fax machine, much to the appreciation of Chelsea fans here in 2020. Might Arnold's buttery fingerprints be all over yet another tech balls-up?
Was it someone at newly crowned champions Liverpool, noted for having the most fans using the club's name for their passwords? No, its recent heavy investment in defence would suggest past lessons in security have been learned. In that case, perhaps Arsenal's new contract for David Luiz is a clue.
The cyber dunce in question is likely to remain a mystery, and the best we can hope for is them giving the game away in an anonymous tell-all book. If so, be it thanks to the mention of a smashed Sports Direct mug, or Bruce Buck yelling "You were hacked?! You're supposed to be f****** Russian!", or a stern dressing-down from the Dildo Brothers, we will unmask the secret managing director.
Content Continues Below

Download this free guide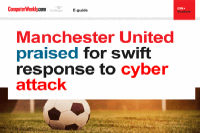 Manchester United praised for swift response to cyber attack
The Theatre of Dreams briefly turned into The Theatre of Nightmares as Manchester United Football Club suffered a cyber-attack on their systems on Friday 20th November. This e-Guide dives into more depth about how the attack happened and what Manchester United's cyber security team did, in order to prevent a loss of data and keep a clean sheet.