While Rupert Murdoch's News International tries to persuade us all that we should be happy to part with cash to read news online, and publishers of daily and weekly newspapers in the UK assure us that it's impossible to make money in publishing right now, far away in China the latest fashion is for 3D newspapers. Readers, apparently, can't get enough of them since they were launched in April.
In March a European paper, La Derniere Heure, issued what is probably Europe's first 3D paper, but found it to be a costly experiment, unlikely to be repeated any time soon.
The super-soaraway-Sun, not to be left behind, soon followed up with a promise of a 3D edition on 5 June. And here it is, or at least the online version of the front page (in case it should slip behind the pay wall).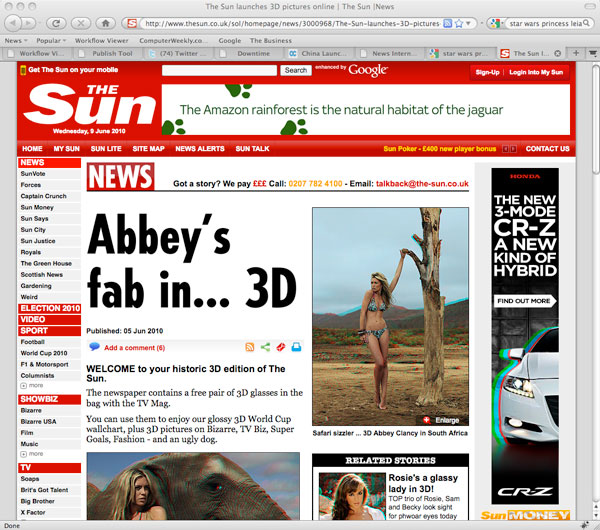 Fuzzy babes and fuzzy elephants. So much for that. Surely by the time they get the technology for this sorted out, your 3D news will already be popping up from your iPad like Princess Leia out of R2D2, and you won't need silly glasses.