So will Lewis Hamilton hold onto his World Championship crown?
You can almost hear the engines revving up in the F1 paddock in Melbourne ahead of Sunday's opening Grand Prix of the F1 season.
As usual the start to the season is being dogged by the usual controversy about technical compliance, this time to do with the rear diffusers (don't ask me what they are!) on the Williams, Toyota and Brawn cars.

Download this free guide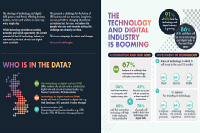 Infographic: How to future-proof UK technology
There is no doubt that the technology industry is booming right now, bringing with it exciting social and economic opportunities. However, there is a real fear that the UK industry may be stunted due to the lack of talent available. This e-guide helps to break down the future fears and expectations of dozens of business leaders and tech workers.
At the moment, Lewis Hamilton seems behind the eight ball, but I bet that his McLaren team make their cars more competitive pretty soon, and I reckon Lewis will be in the shake-up at the end of the season.
I for one am glad that the BBC has got its coverage back and am looking forward to seeing how they cover it, at least the annoying ad breaks won't be a problem now.
Of course, the opening race of this season is eagerly anticipated, not least among the tech community. We know that many of our audience are big F1 fans and that's why we have been busy developing our very own F1 motor racing game.
Being responsible publishers we don't want to distract you from work, but to help you fill those downtime moments with something to play and enjoy.
Your efforts won't come without reward either, if you register your fastest time and hold the winning spot come the British Grand Prix, you could win a F1 racing experience at Silverstone.
Take part and enjoy.
And if you're interested in how a super computing can boost a F1 team's performance have a look at our photo story case study at Renault.
If you like the technology in detail that delve into Eric Doyle's great three part feature into Renault's supercomputer simulation and how its aided design.