Computer Data Recovery: we put a data recovery company to the test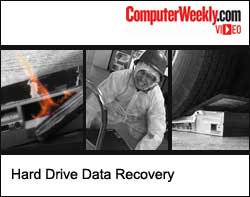 When Kroll Ontrack challenged us to test their data recovery prowess, it was an opportunity too good to miss.

And never wanting to back down on a challenge we decided to take the most common types of disaster that cause data loss and see whether they could recover the data.
The result is three videos of hardware destruction by the commonest forms of damage – water, fire and physical damage. (A special thanks to RBI's IT department for finding us the obsolete desktops to destroy – as I say it's every boys dream to have that chance to smash up some computers without having to pick up the bill at the end – it was a lot of fun!)
Although there was a serious point to the exercise, namely at what point is it no longer worth calling in the experts, we decided to film the videos in a light-hearted Charlie Chaplinesque silent movie format. I hope you enjoy them and if you do, remember to share them with your friends.
I won't spoil you enjoyment of the videos and the end result – you can watch and find out that out!
Find out more about recovering your data and protecting your company's information from disaster by reading our guide to computer data recovery and visiting the ComputerWeekly.com IT Risk Management channel