Asking your users for feedback and user centred design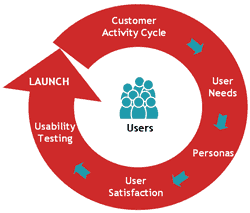 Adam Burstow's CIO blog asks for feedback on his company Telereal's website. This is an excellent idea in generating user feedback and reminds me of one of the guiding principles we used when redesigning Computer Weekly.com recently and that is User Centred Design.

From our point of view this process was extremely educational and informative and allowed us to deliver a new ComputerWeekly.com with complete confidence. Every stage of development was tested by experts and users, so anything that didn't make sense to our audience was highlighted early in development and could be addressed.
So my advice for Adam would be to follow User Centred Design, because it allows you to develop with confidence and it is cheaper than developing a website that doesn't meet its users needs or the businesses' requirements . If you are interested in this then here is a useful directory of the most respected blogs on UCD.
I'm not saying that we got everything right, but it is better to develop a website in conjunction with your users to ensure you are going in the right direction.