A brand new ComputerWeekly.com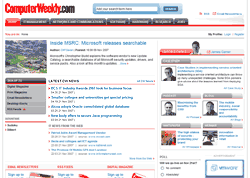 ComputerWeekly.com is evolving. Yes, as you may have already noticed, we've had a makeover, but this redesign is more than just a lick of paint.

We've spent two years finding out exactly what IT professionals want form from their website and we've delivered a site that meets your demands and needs.
You told us ComputerWeekly.com needed to meet your information needs and do so quickly.
So we have made two major changes to meet this demand.
Firstly, we have made ComputerWeekly.com the only place you need to visit to find the latest IT news from across the web, so if you go to the homepage and click on the "more from the web link" you'll be taken to a listing page that will give you the latest in IT. The same happens across the site, so if you want to see latest IT Services and Outsourcing IT news follow the same "more from the web" link from the IT Services and Outsourcing area and you can see all the news from across the web about that subject.
Our research showed that you're very busy people and so by aggregating information from across the web we save you time and give you a better experience. We also believe that our content is the best you'll find so you'll keep coming back to us.
Secondly, we have re-organised our content so you can easily browse to what interests you using the seven tabs across the top of the site.
We have segmented the world of IT into four main categories – IT management, Networks and Communications, Software and Hardware – so you can find what you're after in no time at all.
Of course, if browsing isn't your game, then use our site search to find what you're after, based on relevancy or date. All searches are powered by ZIBB, a search engine that only looks at business-to-business websites, giving you targeted search responses. If you want to refine your searches to just Computer Weekly then click on the computerweekly.com button when search results are displayed, because the results will automatically default to IT industry.
We also know that you want thought-leadership – we have therefore made it easier for you to find content from our 10 bloggers throughout the site.
There is now a new homepage for all the blogs and their latest posts will be available throughout the site, so you can easily access opinion and comment from some of the IT industry's foremost thinkers on topics such as security, technology, project management, politics and IT leadership.
We have also added this blog to help signpost interesting news, reports, multi-media or research on ComputerWeekly.com.
There is also a new Editor's Choice area on the homepage, which has quick links to some of our high value current content, such as webinars, podcasts, videos, case studies or special reports.
Each sub section of the site has its own homepage, which also has quick links to the "best of" content relevant to that area of the site.
All these features are designed to save you time and give you direction to make your visits to ComputerWeekly.com more profitable. The new ComputerWeekly.com has followed the best principles of user centred design – this should make the content easy to find and the site layout and design clear and understandable
All this gives you everything you asked for; news, views, opinion and analysis from across the web. All in one place. That's what we have aimed to achieve in this development of ComputerWeekly.com.
Lastly, this relaunch is work in progress. We plan to continually evolve ComputerWeekly.com from now on as we refine and develop the new format.
But please let us know what you think by leaving a comment on this blog or send an email.