Telecom Services Spend - Market Research Companies
Large market research companies spend £600 per employee on telecom services. This is comparable with the UK norm. For smaller sized research firms, the expenditure is higher than the corresponding UK average. In the case of the smallest concerns it is up by at least a factor of two.

Download this free guide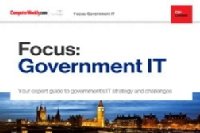 What's in the UK government's 5G strategy?
These five articles explore why the UK government must improve its cyber security defence efforts, what the future holds for 5G, how industrial strategy will help to fuel post-Brexit Britain and what's being done to nurture soft skills and industry partnerships.