TechEd ITPro - Day 1 - Meeting, eating and greeting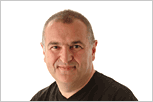 I suspect welcome receptions are the same the world over. A chance to catch up with old friends, chase after some dubious morsels from a finger buffet and the first chance to extend the various personal networks that help the world go round.
I found this first 'official' Microsoft event where I represented the company quite strange, not because the event is any different from any other but because I did not know anybody. That is a first for me.
The food bits obviously comes from a secret organisation that provides almost identical catering to conference centres the world over. Maybe the next James Bond film could investigate this mysterious phenomenon 'A Quantum of Vol au Vents' possibly?
Considering the economic environment we are all facing the general attitude of the attendees is mostly upbeat. My gut feeling is that with the American election out of the way people are going to start focussing on being positive and we may find that between now and inauguration day we are at the bottom of the economic pit. In the words of Yazz 'The only way is up, baby'
Let's hope.