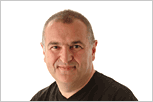 I have been a regular at Lotusphere every year since it began (and cc:Mail Interchange before that). This week the excitement is brewing in Lotus circles with less than a week to go the Orlando jamboree. But I will not be there.
It is not that working for Microsoft makes attending less desirable however next week I will be spending it helping customers deploy Groove technology in the most challenging environments. So it is both Lotusphere MYA and MIA!
I will miss it, I will miss the camaraderie, Jellyrolls piano bar, Bill Buchan's sense of humour and talking to some of the 'big brains' that attend the event. I will in particular miss the IBM exec baiting which on a good day can be used to influence the company and on a bad day is a great way to 'vent' at some of the stupid decisions corporations make.
Lotusphere is a great event, held in a great location with great people. I will miss it – on the other hand I have many Microsoft events to look forward to, many new friends to make and every day more and more old Lotus friends arriving in the MS universe.
What goes around comes around – see you all at some MS gig in the future!