From the sublime to the risible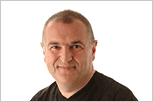 This blog is going to formally launch next week so I thought I would check out CW virtual front page today, first we have UK government loses data on 25 million Britons followed closely by Fortnum & Mason improves store flexibility with new LAN. Now I am not decrying the Queen's grocers transition to the 21st century but juxtaposed against the former article it goes to show how little the general public get to understand the issues and activities that will change all of our lives as time moves on.

From a Collaboration 2.0 perspective our Governments incompetence is all the more frustrating. I am spending a fair amount of time at the moment evangelising the use of simple collaborative technology which layers on top of existing networks, government or public (or both) and can truly deliver secure sharing of files amongst inter-organisational teams and can be made 'muppet' proof. It can be done.
So from F&M to HMRC we have to get the message across; media is insecure, internet email is insecure, encrypted trusted communication that does not reply on the 'send' button is secure and available today.