French Letter #6 - The Web Weather: Unpredictable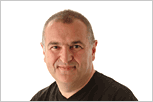 'Allo 'allo
Today the weather where I am is 'Raining', 'Overcast', 'Cloudy', 'Sunny but Overcast' and 'Sunny' according to the various weather sites I visited yesterday evening. These services are great but this does highlight the problem with forecasting where micro-climates play such an important part in the overall weather pattern.
In the US weather patterns tend to be big and quite predictable (but not always) in parts of Europe they are highly variable and can be quite exceptional in local geography's.
Web weather is a great service on the whole but I do miss the general availability and explanations of pressure maps which often give a better indication of local weather than automated predictions can.
At the moment – blue sky, sunny and clear.