Buddy, can you take some change?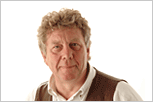 While Barak Obama is pressing for change, many organisations are being forced into it; so how can you shorten the odds that any change program will bring about the intended results — without destroying workforce morale.
Be tough & empathetic. Make difficult, bottom-line decisions that serve the needs of your organisation but be sensitive to their impact on others.
Show optimism & realism. See the upside of any challenge and be optimistic but don't shy away from the difficulties and speak candidly about the true situation (The HBR has further insights).
However, as said before, 'never underestimate the forces of reaction'. I wonder if Obama knows that?