IT's scarce differentiators-in-chief: Data scientist, data architect, and user experience designer
Continuing his series on CIO challenges, guest blogger Gavin Michael, CTIO, Accenture writes about how the changing IT landscape will influence the role of the CIO. The good news, according to Gavin Michael, is that the downturn is driving greater use of IT as a business differentiator.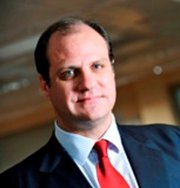 CIOs have a tough challenge ahead of them in 2012. While cost-cutting will inevitably be on their agenda, businesses will still look to them to deliver on innovation, helping firms operate smarter, faster and leaner, to gain a much-needed competitive edge. But in trying to deliver on that, they face another issue, which is that the availability of skilled technology professionals is running low. Unemployment may be high on the news agenda right now, but the war for tech talent is getting steadily more intense.
There are two broad reasons for this impending shortage. The first is well known. Quite simply, the overall supply of skilled technology workers is steadily reducing. At one end, the sector's grizzled veterans are about to start retiring in record numbers: 2011 marks the year that the first of the baby boomer generation starts to turn 65 and retire. At some major US firms, as much as half of their total engineering workforce will become eligible for retirement in the coming five years. At the other end of the labour pipeline, the intake of new graduates has been steadily declining. In the UK, since 2002, there has been a 33% decrease in the number of people applying for computer science-related courses, according to e-skills UK.
But there is also a second and less well understood reason for the CIO's looming talent troubles. Quite simply, the particular tech roles that will help firms gain a competitive advantage are now far more specific, and therefore far scarcer. Three roles stand out in particular. Welcome the data scientist, the data architect, and the user experience designer. Collectively, they are becoming IT's differentiators-in-chief.
These roles reflect that changing nature of technology, with varying drivers coming into play here. One is big data–large sets of both structured and unstructured data, from emails, blogs and tweets to videos, transaction records, and sensors, to name just a few sources–which is increasingly becoming a key factor in corporate innovation and productivity. To tame this, firms will increasingly rely on the data scientist: a multi-skilled role that combines technical acumen with mathematical abilities to tease out commercial insights from growing volumes and combinations of information.
The pharmaceutical sector gives just one example here. As the ability to sequence an individual's genome becomes increasingly cheap, there will be a growing emphasis on personalised medicine. To deliver on this, firms here will rely more on new kinds of data scientists to mine huge data sets and assess which compounds might be most effective in a particular circumstance. In other industries, data scientists will help their firms understand anything from high-level market trends to what retail store configuration will sell the most Christmas gifts.
But before the data scientist can do her job, the systems enterprise architect needs to do his. There's no point in building a better data analytics tool if there isn't a fundamentally sound foundation in place: a proper data architecture, with governance rules, master data management and a scalable storage architecture. Without this critical base, higher order analytics simply aren't possible. Unfortunately, this is typically one of the areas where firms are worst prepared, with data silos and platforms that aren't able to communicate with each other. Data architects will become increasingly crucial as firms become more reliant on data to compete.
The third critical role is the user experience designer. Such specialists are finding newfound importance, picking up from where business analysts typically held most sway before. This is directly due to the incredible success of mobile apps, with a corresponding rise in user expectations about design and user interfaces. Consumers expect that the websites or apps they use – whether for booking travel, buying groceries, or making an appointment – are simple to use, and visually appealing.
In turn, this makes user interfaces a means of standing out from the crowd. Take Square, for example, a start-up that offers a device to allow companies to accept credit card payments via a smart phone or tablet. Hardware aside, the firm stands out from its rivals by using interface design to turn one of the most routine and commoditised transactions of any business – people's card payments – into a chance to surprise and delight customers. This is the competitive advantage that the user experience designer can bring to a business.
Not all of these roles will matter to all firms, and other skills will matter more to some companies, but for those CIOs wanting to put technology at the heart of their company's innovation, these roles will matter more than before in 2012. The challenge, however, will be in finding and recruiting such skills.
Gavin Michael is Chief Technology Innovation Officer at Accenture. Follow Gavin on Twitter @gavinmichael.
Gavin started working for Accenture in 2010. He previously worked at Lloyds Banking Group as the Retail Technology Director. At Lloyds he was also a member of the Retail Bank Board. Prior to this role, he served as CIO of Lloyds TSB – UK Retail Banking & General Insurance. In this capacity, Gavin set the information technology strategy and direction for growing the UK Retail Banking Division and drove strong collaboration and alignment of technology with the business.