MDM & the art of strategic data goalscoring
This is a guest post to the Computer Weekly Developer Network by Yves de Montcheuil, VP of marketing at open source data management and application integration company Talend.
Organisations are increasingly seeing the potential of actively using data to help achieve business objectives – OK, so no big surprise there.
Contradictory & disjointed information
But the ability of MDM technologies to deliver a single version of the truth rather than several versions of contradictory, disjointed information changes this business landscape — it (potentially) enables organisations to make sense of data and use it to drive competitive edge.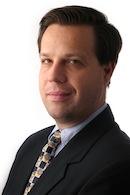 Collating and efficiently managing data through an MDM system and enabling an accurate picture of their business can have a huge impact on any organisation – even when carried out on a departmental only basis.
However, if real value is to be delivered, a company's rationale for adoption must always link to its strategic objectives – whether around cutting costs, driving performance efficiencies or building market share. It might, for example, want to create new products more efficiently to reduce time-to-market, or cut production costs and better serve its customers in order to reduce churn and deliver revenue growth.
Scoring in elusive goals
To meet such objectives, companies need to do more with their data and to do it faster with fewer resources. This often entails leveraging existing information assets more effectively while simultaneously meeting performance objectives. MDM can help them achieve these seemingly elusive goals.
Essentially, the benefits that MDM can deliver for businesses can be divided into two core areas. First, by delivering a single view of the truth, MDM gives organisations the information they need to make accurate decisions about the business. Second, the tight integration of systems and processes provides performance efficiencies in themselves.
The former capability enables companies to obtain a consistent vision of data across many systems. Being able to produce an accurate representation of the data for analysis potentially enables them to identify areas of inefficiency across the organisation, which could then lead to a series of tactical activities that will contribute to improving performance. Once identified, they can use their MDM capability to achieve these.
For example, they may want to use their single view of the truth to gain insight into customer data to provide better targeted mailing and therefore better customer service, helping them, for example through the enhanced integration MDM delivers, to create one customer list for marketing and another for billing, with the added benefit of cutting costs and driving sales.
Reaping the rewards
MDM helps obtain value from information assets. Organisations need to use this to advance their corporate objectives. Businesses that have control of their data and can bring together disparate information across their enterprise and turn it into "a single version of the truth" will have greater confidence in the decisions they take, using data, to accomplish those broader goals – from improving customer loyalty, to driving sales while reducing marketing costs.
Implementing an MDM-driven business approach can be transformative for any organisation. Increasingly, companies are realising data can be harnessed to revolutionise their business strategy and drive their future success.