Kony: any-user low-code tools for 'instant' native app prototypes
Kony has updated its Visualizer product — the software itself is a visual application design and development tool.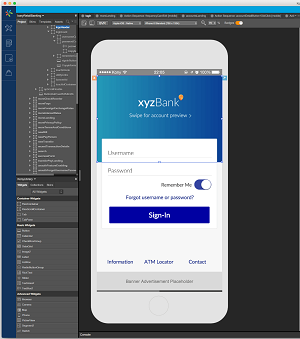 Cloud based in nature with all the cross-platform omni-channel goodness you would expect… it now comes with 'all new' support for voice input for Apple Watch.
Kony is offering two versions of Visualizer: a low fat (free) Starter edition and an Enterprise edition.
The firm targets designers, developers as well as non-technical line of business users with its software, especially with the Starter edition.
"With Kony Visualizer Starter Edition, users can visually design fully interactive, native mobile apps. It also allows them to collaborate with stakeholders across the organization to get immediate feedback on the mobile apps they've designed, which creates better alignment between business and IT as part of the innovation process," said the firm, in a press statement.
The free version works for unlimited use for mobile app design and prototype creation.
Once users design a mobile app using the Kony Visualizer Started edition, they can also move the app to production using the Kony Visualizer Enterprise edition subscription to deploy and connect the app to back-end services and APIs via Kony MobileFabric.
Kony Visualizer 7.0 provides new capabilities for rapid prototyping, design and advanced multi-channel development for business, designers and developers. Benefits include:
• Instant, Native App Prototypes – Import existing Adobe Photoshop designs to jumpstart the mobile app design process.
• Cross-platform Design and Development – Provides a visual design environment across all major device and operating systems.
• Rapid Iterative Development – Empowers developers to rapidly build apps using either low-code visual techniques or drop into full JavaScript development when required through a modern integrated environment for agile multi-channel development.
• Business and IT Collaboration – Publish and share native prototypes and app designs with real-time app previews and annotation support for capturing input from key stakeholders
Kony Visualizer 7.0 is integrated with Kony MobileFabric 7.0, a mobile middleware (mobile backend as a service) offering.
This is essentially a case of productivity through low-code tools, simplifying the process of building microservice-based mobile applications.