Keeping COBOL sexy with a game coding challenge
As part of its corporate academic programme, Micro Focus has staged a COBOL code contest for student and community developers around the world.
Programmers and code hobbyists are being challenged to design and develop a video game program using the company's Visual COBOL Personal Edition, for the chance to win a cash prize of $1,000.
NOTE: Considered outdated by some, COBOL in fact supports 90% of Fortune 500 business systems and many organisations reportedly say that they will continue to use it for "decades to come".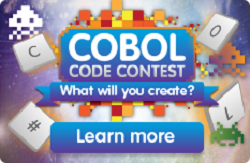 COBOL /ˈkoʊbɒl/ is one of the oldest programming languages, primarily designed by Grace Hopper. Its name is an acronym for COmmon Business-Oriented Language,
More prestigious perhaps is the fact that the winning game will also make a highlighted appearance in a future release of Visual COBOL.
Contestants can create their entry based on any existing video game, like the COBOL Blitz version of Space Invaders, or invent a new game of their own.
NOTE: The core contest requirement is that the game must contain at least 50% Visual COBOL.
Micro Focus says that by downloading a copy of Visual COBOL Personal, developers can build their video game using the very latest modern IDE of their choice i.e. Visual Studio or Eclipse.
Contestants are also encouraged to be creative and combine other programing languages or technologies with Visual COBOL.
The contest judging will take place between close on 17 December 2013 and 20 January 2014, with winners announced in late January, 2014.
Kevin Brearley of Micro Focus has said that COBOL has its place in the classroom and remains an importance component of the academic curriculum.
Commenting on the value of the COBOL code contest, Michael Coughlan, lecturer at the University of Limerick said, "Students who wish to work in enterprise environments need a mixed skill-set, combining experience in modern programing languages with knowledge of enterprise applications written in older languages such as COBOL."