Forget apps -- mobile software development is doomed without 'full stack' backend data love
Will we ever get tired of technology market surveys?
This blog's news desk has seen 'findings' tabled as insightful as: mobility likely to be key driver in enterprise applications in 2016.
I mean, come on, honestly.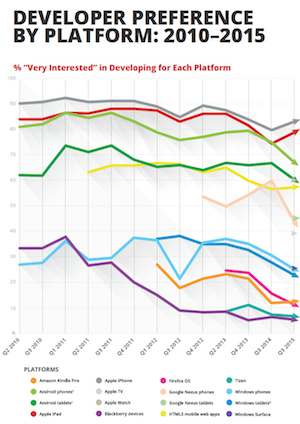 Should we think any less of Appcelerator's 2015 Mobile Trends Report in partnership with IDC?
Get to the guts
The enterprise 'mobile engagement platform' company has at least used this investigation to point towards the guts of the matter i.e. the 'finding' here suggest that developers agree:
…accessing data is the most significant challenge developers face when building mobile apps.
Nearly three-quarters of the 5,778 respondents note that getting mobile-optimised access to backend data is the single greatest challenge to building mobile apps, with almost half of developers identifying the work of building and deploying mobile APIs as the primary bottleneck.
Release cadence matters
The survey also throws up a growing divide between self-identified mobile 'leaders' and 'laggards' — 42.6% of leaders report a weekly or bi-weekly app release cycle, among the laggards, that number drops to just 9.5%.
"From smartwatches to smart appliances, new device types have shifted the centre of mobile development from frontend to backend. While that shift opens up opportunities for smarter, more contextual and connected mobile experiences, it also creates new hurdles to development," said Brad Hipps, vice president of marketing, Appcelerator.
"Great apps need great data. But as this survey shows, getting at that data is no easy feat. In fact, respondents say it's the number-one challenge. The standards for middleware and backend data access that defined the web era don't work for mobile," added Hipps.
IDC: a rationale for the full stack
IDC analyst John Jackson suggests that the upshot here is that developers must now be jacks of all trades.
What he eludes to is the fact that programmers will now need to think about the tasks involved creating an appealing front-end experience… but creating one that is:
a) also tied to a rich back-end.
b) and one that works with the right tools to support such an experience.
"Taking on a full stack development mentality has become imperative to success," concludes IDC's Jackson.