7 reasons to love the BlackBerry Passport
Okay so hands up, guilty as charged, I didn't think I would be writing this post.
As a lifelong BlackBerry user I never 'rubbished' the Alicia Keys reinvention years and the decline of the brand, but I did turn away from an old friend and adopt the use of an Android and Windows Phone with gusto as I joined the band of ex-BlackBerry pickers.
Passport pleasures
1 — So then, the BlackBerry Passport with a large square 4.5-inch screen. Oh dear it's too wide and big right? No, it's not — you don't have to be Coco the clown to fit this into your pocket and the touch-enabled QWERTY keyboard works just fine.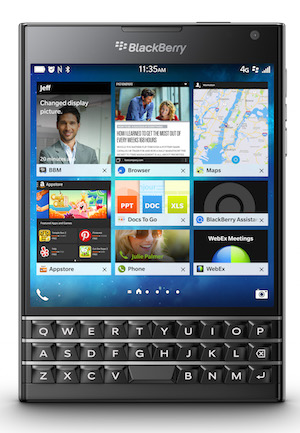 But what it REALLY does well is (and you won't believe this) email.
As an "information worker" (if I may be so bold) who needs to READ (and then, shock horror, write a lot) this is a bit of a relief to see something smaller than a tablet or phablet, but with enough screen real estate to actually get things done.
As some commentators have written already – don't believe the naysayers and haters. Yes it's niche and one-handed operation takes some learning!
But so what?
It's nicely niche for the number one two-handed core productivity application on the planet — and yes there are maps and space invaders if you want them for goodness sake.
2 — It's like riding a bike. If you have been training yourself on Android and Windows Phone like me but you USED to use BlackBerry, it's not hard to pick it back up. The BlackBerry HUB introduced in the last OS upgrade is still there and, in general, the access route to applications and settings is faster than on other devices.
3 — The option to install and run Android applications via SNAP is good and the battery life is second to none. I think you could go away for the weekend without charging it — but you would probably want to restrict yourself to email only.
In fact, it is the 'purity' of QNX operating system underneath the BlackBerry that (for many) makes it a Microsoft beater if you accept that Microsoft has been trying to 'spread Windows 8 too thin' across desktops and tablets to try and make them behave the same way; what BlackBerry did was to concentrate on building an enterprise mobile backend and operating system layer proposition that was truly impressive. Okay it might have been like sticking a Ferrari engine in a Trabant if you didn't like the BlackBerry Z10 handset (and I didn't), but the Passport can arguably reach a higher top speed.
QNX does a lot of smart things in areas like memory protection so that software applications can function with 'reloadable process' and 'adaptive partitioning' — and developers like this kind of granular control of drivers and file system attributes.
4 — BlackBerry spoke to the Computer Weekly Developer Network blog to detail what has happened with what it calls "a major OS update" which brings together a refreshed visual design along with dozens of new features.
All new features are designed to boost productivity, collaboration, communication and security, or so they say.
According to BlackBerry, "Highlights include: BlackBerry Blend, which allows you to access messages and content from your BlackBerry smartphone on your computer and tablet; a text and voice BlackBerry Assistant to send messages, schedule meetings, place phone calls and more. Instant Actions in Hub makes email management more efficient so that the a user can quickly file, delete or flag messages. An enhanced Calendar UI with views improved for day, week, month appointments showing events and tasks where notifications will automatically go on silent mode for the duration of a meeting."
5 — It's true that BlackBerry World isn't as populated as the Apple Store or Google Play, but the fact that the device first boots up with just a small selection of apps including Dropbox. But this is a business user device and you don't want six screen's worth of application bloatware just for the bling factor if you are running a small business (okay mine is just a partnership plus an occasional +1) and want to get stuff done.
6 — BlackBerry has BlackBerry Enterprise Service (BES) division at the backend doing what it does and gaining more respect by the day.
I have personally followed CEO of BlackBerry John Chen since his time at Sybase (remember Sybase?) this division's relative health is clearly something that makes him happy.
"[BlackBerry's BES division] delivers comprehensive EMM, communication and collaboration, and identity and access solutions to adapt to changing needs," said the firm.
7 — BlackBerry still has a solid software application developer proposition at http://developer.blackberry.com/ and the firm is (arguably) more fully developed in this area than others in the Android arena — despite Android's obvious dominance at mass-market user level.
Is BlackBerry still out on its own (or out in the cold)?
The Passport will support devices running Mac Apple OS X 10.7 and iOS 7, Windows 7 and Android 4.4 or later — so interaction and integration in the workplace shouldn't be too painful.
… and finally, the REFRESH function for email synchronisation works better than in days of old — and guess what, that's an email related function again.
Would I be seen dead with a BlackBerry Passport? Yes – and alive too, thanks for asking.