Open source software
Open source software (OSS) has become an important part of many enterprise IT strategies, and OSS products are available to support a wide range of IT needs. Products such as Linux, Apache, Ubuntu, MySQL and Firefox are widely used. We look at the latest trends and technologies.
In Depth :

Open source software
Apache Spark is growing in popularity and finding real-time use across Europe, including in online betting and on railways, and with Hadoop Continue Reading

As organisations become more digital, CIOs must consider how best to tap into data held in mainframes Continue Reading

Big data technology Hadoop is starting to appear in patches of the UK public sector, including GCHQ, HMRC, the Home Office and the NHS Continue Reading
View All In Depth

Download this free guide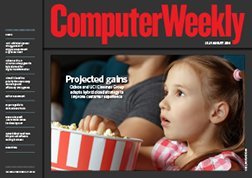 Projected gains: Odeon and UCI cinemas adopt hybrid cloud
In this issue, we profile Odeon and UCI Cinemas Group's use of hybrid cloud as part of a digital transformation programme aimed at enhancing customer experience and staving off competition from on-demand streaming. We also look at the summertime game of musical chairs at the Government Digital Service, and at 50 years of business software.
Blog Posts :

Open source software
The press conference is dead as a meeting format isn't it? No, apparently not. Managed cloud computing company Rackspace staged what is now its sixth breakfast press briefing this morning in ... Continue Reading

The Lithuanian police department (Lietuvos Policija) has gone open source (atviro kodo) for the LibreOffice suite of productivity applications over any previous preference for Microsoft products. ... Continue Reading

A new release of GitHub Enterprise is  available with security improvements and more powerful APIs… the play being: a better deal for both software application development professionals and ... Continue Reading
View All Blog Posts
Opinion :

Open source software
Open-source software is being used more widely than ever – but do IT leaders understand the legal risks? Continue Reading

With enterprise interest in graph databases on the rise, Clive Longbottom explains why some businesses are favouring them over relational setups Continue Reading

There is a need for British businesses to improve their adoption of digital technologies Continue Reading
View All Opinion
Videos :

Open source software
Richard Atkinson, CIO of JustGiving, believes cloud is a catalyst, which is driving radical chnages in softwrae development

Mark Dearnley explains how HMRC has opened up the tax office APIs to external software developers

Jim Patterson, a business studies undergraduate from Lancaster University speaks to Computer Weekly's Cliff Saran about RemoteCare
View All Videos