In Depth :

Data warehousing
Computer Weekly sat down to watch Friedrich Moser's documentary about the NSA whistleblower Bill Binney - A Good American Continue Reading

Local authorities and NHS organisations in England, Wales, Northern Ireland and Scotland are making slow but sure progress with master data management technology to gain a single view of the citizen Continue Reading

Apache Spark is growing in popularity and finding real-time use across Europe, including in online betting and on railways, and with Hadoop Continue Reading
View All In Depth

Download this free guide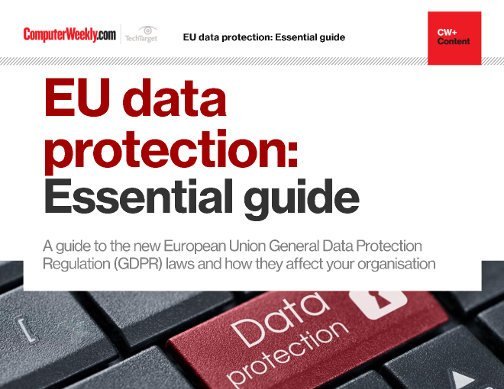 EU data protection: Essential guide
The European Union's General Data Protection Regulation (GDPR) comes into effect on 25 May 2018. GDPR will introduce new accountability obligations and stronger rights and restrictions on international data flows. Against a backdrop of radical technological advances and the Snowden revelations about data surveillance, the new framework is ...
Blog Posts :

Data warehousing
This is a guest blogpost by Miriam Fois, general manager, for UK & Ireland, WhereScape If you think we're in the age of big data, think again. As the phrase has it, "you ain't seen nothing ... Continue Reading
View All Blog Posts
Opinion :

Data warehousing
As the Investigatory Powers Bill goes through its final stages in Parliament, a former GCHQ intelligence officer puts the case for the bulk surveillance powers contained in the legislation Continue Reading

The government has set David Anderson QC an almost impossible task in his review of the sweeping bulk powers proposed in the Investigatory Powers Bill – but it is not too late to make a difference Continue Reading

With reports suggesting some major changes may be afoot at EMC, Clive Longbottom looks at the reasons why Continue Reading
View All Opinion
Videos :

Data warehousing
Brian Gentile, general manager for Tibco's analytics business, believes BI needs self service combined with agent technology

In this video Dave Ubachs, European CIO of Staples discusses the opportunities around big data and analytics, how can the CIO can drive value. He outlines why data visualisation and analytics are great opportunities for IT to move up the value chain, and how smart IT people can become data scientists and why are they are uniquely equipped to do so.

In a video interview, consultant Claudia Imhoff discusses the increasing need to augment data warehouses with technologies such as Hadoop and real-time analytics systems.
View All Videos